Portrait sells for £190,000 at Liverpool auction house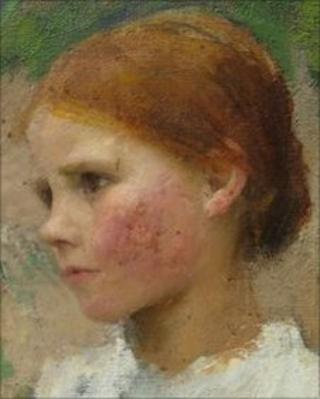 A painting which was hanging on the wall of a Lancashire home for generations has been sold by a Liverpool auction house for £190,000.
The portrait, called Head of A Young Girl (Rose Grimsdale), was painted by George Clausen in 1896 and given to his friend Richard Crafton Green as a gift.
It was handed down the Green family and hung on the wall of their house in Burscough until it was sold on Tuesday.
Auctioneer John Crane, of Cato Crane, said it sold to a London art dealer.
He said: "The bidding started at £40,000, but quickly went up to £140,000.
"Bidding slowed a little then it continued to £190,000, so I thought it was sensible to get the hammer down."
He said: "We have not sold any Clausen works before, but at the moment they are really fashionable.
"Now is the time to sell them," he added.
Clausen is regarded as a "rural naturalist" painter and was one of a group of predominantly French-trained artists who captured painted scenes of everyday country life.
The painting was sold to Patrick Bourne, of The Fine Art Society in London, who is believed to have a private buyer for the work.