Kabuki message stands test of time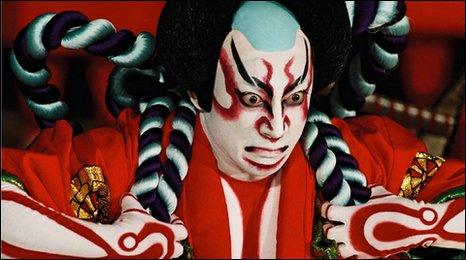 Kabuki, one of Japan's most exquisite art forms is making a rare appearance in the UK with drama Yoshitsune and the Thousand Cherry Trees showing at Sadler's Wells, in London.
For many centuries, Kabuki performers have been superstars in Japan.
Before the arrival of newspapers and TV, fans collected woodblock prints bearing their pictures and read gossip about their lives in pamphlets.
In the mid 1800s actor Ichikawa Danjuro VII was even banned from the city of Edo (now Tokyo) for seven years, because of his overly luxurious lifestyle and for using real armour on stage.
Nowadays, his artistic successor Ichikawa Ebizo XI does not have quite such a problem.
But as one of Japan's most popular actors, he is hounded by paparazzi photographers while magazines have devoted many pages to his recent marriage to a TV presenter.
As well as starring in Kabuki plays, 32-year-old Ebizo has also appeared in films, a TV drama - and even an advertisement for green tea.
However, his roots lie deep in a dynasty of actors (the Narita-ya) founded at the end of the 17th Century.
Each actor takes on the name of an illustrious forebear and Ebizo is the 11th in line.
"In Japan, the younger generation is not particularly aware of our country's traditions, they are slipping away," he says.
"So I am putting a lot of effort into trying to express the tradition of Kabuki. Even if you are from a different culture.
"I think it can enrich your life to see something unique."
Ebizo is appearing at Sadler's Wells dance theatre in a drama entitled Yoshitsune and the Thousand Cherry Trees which was originally performed in 1748.
The entire play takes a whole day to perform but to make it more digestible to a foreign audience, the London version has been reduced to three acts lasting just two hours.
"I have also adjusted the rhythm and the tempo to make it flow more," explains Ebizo.
"There are more physical gestures and more movement and that helps to compensate for the things we cannot translate from the original text, such as the puns," he adds.
For a modern Japanese audience its archaic language is often hard to comprehend, while for English speakers the theatre provides a headset which gives a simultaneous translation and guide to the scenes.
Ebizo plays the part of Tadanobu, who is seen initially in the role of a macho Samurai warrior.
Later he proves an agile dancer and in the final scene it is revealed that Tadanobu is not human but a fox - who is mourning his parents.
"There is both a masculine and a feminine side to the role and the fox is a more neutral form. It is not quite one person - it's three aspects," explains Ebizo.
The themes of the play concern the lengths to which the retainers go to serve their master and the great filial piety which the fox feels towards its dead parents.
Ebizo thinks playwrights in those days had a real understanding of those issues and at that time people put more effort into building relationships with one another than they do today.
"I respect people who write plays nowadays but they can never quite match the plays that were written 250 years ago," he laments.
So would he exchange his career in Kabuki for a higher profile role on film or TV?
"I could try to explore the play's ideas in film or TV, such as 'Oh, I love my parents' or 'I care for my parents' but it seems very superficial in comparison to Kabuki," he says.
"And what makes this piece unique is that I have the opportunity to express love in the role of an animal, a fox, which makes it very pure and strong for a modern audience."
Related Internet Links
The BBC is not responsible for the content of external sites.