Fox caught on camera after attack on twins in London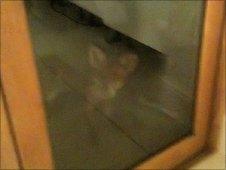 A fox was photographed by a police officer just after a suspected attack on twin baby girls in their home in Hackney, east London.
He spotted the fox through a patio door at the home and took a photo using his mobile telephone after the attack on Saturday.
It is not certain whether the officer's photograph is of the fox thought to have mauled the twins.
One of the girls, Lola Koupparis, is "a lot better", relatives have said.
She is in a stable condition at the Royal London Hospital.
The nine-month-old is being treated for facial injuries and puncture marks to her arm.
Her sister Isabella is under sedation after surgery at Great Ormond Street for arm injuries she received.
The girls were attacked in their cots.
On Monday the twins' mother Pauline told BBC London 94.9 that she and her husband Nick had been watching television when she heard her a "funny cry" and went to check on the girls.
She described the "living nightmare" of switching on the lights to see them covered in blood and the fox in the room.
The twins' four-year-old brother, who was also sleeping upstairs, was not hurt.
The fox is thought to have crept in through the patio door, which had been left open because of the hot weather.
After the attack, pest controllers set fox traps in the back garden.
An animal found in one of the devices on Monday was humanely destroyed by a vet.
Related Internet Links
The BBC is not responsible for the content of external sites.