New court date for Peter Tobin sentence appeal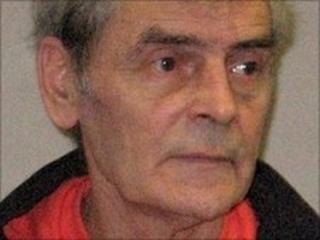 Serial killer Peter Tobin has been given a new court date to contest the record sentence he was given for murdering schoolgirl Vicky Hamilton.
Tobin is serving three life sentences, but believes judge Lord Emslie's order - that he should not be eligible for parole before 2038 - was too harsh.
The case was due to be heard on 15 April, but Tobin, 63, took ill. The hearing will now be heard on 22 July.
Tobin was convicted of murdering the 15-year-old following a trial in 2008.
The handyman abducted Vicky in February 1991 as she waited for a bus to return to her home in Redding, Falkirk.
He took her to his Bathgate home where she was drugged, sexually abused and strangled.
Detectives found her body buried in the garden of a house in Margate, Kent, where Tobin had lived.
After the jury's guilty verdict, Lord Emslie said Tobin should serve at least 30 years - the longest minimum sentence for a sex crime in Scotland.
The outcome of the appeal on 22 July will make little difference to how long Tobin remains in prison.
Last year he was also jailed for life for the murder of teenager Dinah McNicol - whose body was also uncovered in the Margate garden.
An English judge said then that Tobin should die behind bars.
Tobin is also serving a life term for raping and stabbing to death Polish student Angelika Kluk, 23, in September 2006.
After killing her, he hid her mutilated body under the floor of a church in Anderston, Glasgow.
During the three murder trials judges branded him "inhuman", "an evil man" and someone "unfit to live in a decent society".