Talbot Heath farmland housing plans approved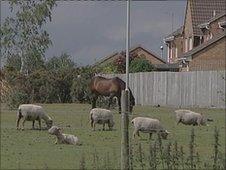 Councillors in Poole have voted to allow a controversial plan to build hundreds of new homes on one of the last green areas in the area.
Protesters have argued the proposals for homes and student accommodation on farmland at Talbot Heath, Dorset, would be environmentally damaging.
However backers of the scheme say with nearly 4,000 people on Poole's housing waiting list the development is needed.
The council's planning committee voted by five to three in favour of it.
One councillor abstained.
Protesters opposed to the plans for 378 new homes, including 132 affordable ones, and 450 student accomdation units, held a demonstration outside the meeting on Wednesday.
They argue that the lowland heathland, which will border the development and, is in decline and should therefore be protected.
It is home to rare, endangered species such as sand lizards, smooth snakes, Dartford warblers and nightjars, needs to be protected.
The protesters have the support of Natural England, RSPB and neighbouring Bournemouth Borough Council.
Brenda Donaldson, 82, the last remaining farmer at Talbot Heath is also set to be evicted when the development gets under way.
She said: "It's an awful pity, it will be a big shame.
"I know houses are wanted but you do need some open spaces."
James Gibson Fleming, trustee of the the Talbot Village Trust, the charity which owns the land, said: "Many objectors seem to think that we are planning to encroach on the heath itself - this is simply not true.
"The housing is set well back and in fact we want to invest significantly in the improvement and the extension of the heath and certainly not build upon it."
The trust has promised more than £1.2m to enhance and protect Talbot Heath and its wildlife.
Bournemouth University and the Arts University College Bournemouth will be able to expand their existing campuses and build more student accommodation.
Bournemouth Council said it was considering challenging the decision by asking the government for a public inquiry.
Councillor John Beesley, chairman of the council's planning board, said: "We are extremely disappointed with Poole's decision to approve the Talbot Village Trust development.
"Whilst this development is in Poole it sits on the borough boundary and will have a significant impact on Bournemouth residents.
"We are very concerned over the impact this development will have on the local area including the pressures it will place on traffic congestion, public transport and parking."
Related Internet Links
The BBC is not responsible for the content of external sites.