PM comment on Wales powers referendum timing 'personal'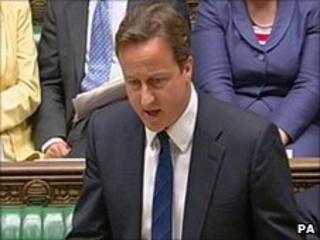 UK government officials say David Cameron was speaking in a "personal capacity" when he appeared to say a referendum on more powers for the Welsh assembly should be in 2011.
The Wales Office said his comments at Prime Minister's Questions were not UK government policy.
Mr Cameron told MPs: "The referendum, we think, should be held next year."
However a Welsh Labour spokesman said it was "ludicrous" to claim the comments were only personal.
A spokesman for Welsh Secretary Cheryl Gillan said she had the task of taking the timetable for a referendum forward.
He added that Mr Cameron had already made his view clear that the referendum should take place next year.
Mr Cameron also said: "If he wanted to have a referendum earlier, the last secretary of state [Peter Hain] could have pushed it through earlier."
The assembly government had formally requested that the vote be held in the autumn of this year.
Easily understood
Mrs Gillan complained about how little preparation had been done by her Labour predecessor, Peter Hain, on the question for the ballot.
Mr Hain denied that work had not been done on the referendum when he was in power and he said it could be held in the autumn.
The Electoral Commission says a 10-week period is needed to ensure the referendum question can be easily understood by voters, which would rule out an autumn poll.
A Welsh Labour spokesperson said, "It is ludicrous to try and claim that these comments were made in a personal capacity. This wasn't a chat with Dave Cameron down the pub, it was Prime Minister's Questions.
"We now have a situation where both the Tory Prime Minister, and his Liberal deputy, have totally undermined the Welsh Office in recent days."
On Monday, the UK government blamed a "slip of the tongue" for Deputy Prime Minister Nick Clegg's declaration that they supported a yes vote in a referendum on more assembly powers.
His comment had put him at odds with Wales Office ministers, who say they will remain neutral on the issue.
The leader of the Welsh Liberal Democrats, Kirsty Williams said, "Welsh Liberal Democrats remain committed to holding the referendum as soon as possible, however latest legal advice from the assembly is that there is no time left to prepare for an autumn referendum."