Twitter deployed to tackle festival crime in Donington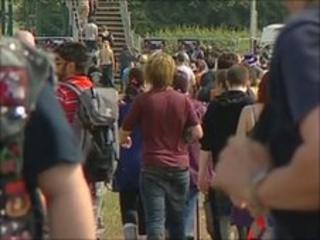 Police are hoping to cut crime at this weekend's Download Festival by Tweeting after more than 300 crimes were reported at last year's music event.
Between 80,000 and 120,000 people are expected at Donington Park over three days.
Officers already use Facebook to send out crime prevention advice to festival-goers but now they will also send Twitter messages to mobile phones.
Insp Chris Brown of Leicestershire Police said it was very useful.
He said: "We can actually communicate with people who are actually attending the event. Now the other advantage with that is that local people can also log on, become friends on the Facebook account and they can also see what's actually happening at the event."
Around 73,000 festival-goers are expected to stay at the on-site camp sites.