Two men hurt by glass as shots fired at car in London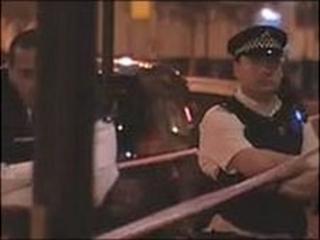 Two men were injured by flying glass when shots were fired after a car crash in central London.
Police said a Corsa and a Fiesta were in collision at the junction of Glentworth Street and Melcombe Street, at about 2300 BST.
Shots were fired at the Corsa, breaking windows and it is thought the injuries to the two men, aged 19 and 22, were caused by flying glass.
The suspects in the Fiesta then ran off. No arrests have been made.
The victims' injuries are thought to be relatively minor. The 19-year-old went to a central London hospital, and the 22-year-old declined hospital treatment.
Detectives from Operation Trident, which investigates crime within the capital's black community, are dealing with the case.