Hillary Clinton voices ongoing US support for Colombia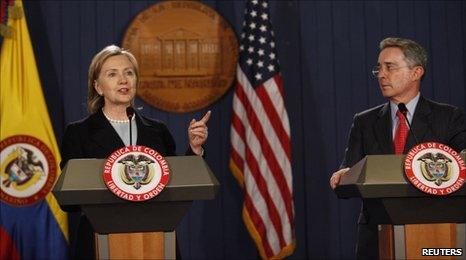 US Secretary of State Hillary Clinton has pledged continuing US support for Colombia as it faces ongoing threats from rebels and drug traffickers.
Mrs Clinton, speaking during a visit to Bogota, said security in Colombia had improved, but "there is no resting until the job is done".
The US has given about $7bn (£4.7bn) since 2000 in military and other aid for Colombia.
Colombian President Alvaro Uribe has been a key US ally in the region.
His successor is due to be elected in the second round of presidential elections on 20 June.
The two candidates, former Defence Minister Juan Manuel Santos and Green Party candidate Antanas Mockus, held separate meetings with Mrs Clinton.
In a joint news conference with President Uribe, Mrs Clinton said the US was proud to stand with Colombia now and in the future.
"The United States will continue to support the Colombian people, the Colombian military and their government in the ongoing struggle against the insurgents, the guerrillas, the narco-traffickers who would wish to turn the clock back," she said.
When asked about Venezuela, Mrs Clinton said Colombia was the best judge of the threats it faced and how to tackle them.
"But I want to underscore for anyone who is listening or watching that the United States will stay a strong partner with Colombia in meeting the security needs Colombia faces," she said, apparently referring to Venezuelan President Hugo Chavez.
There have been repeated tensions between Colombia and Venezuela.
Mr Chavez, speaking on Wednesday night, attacked Mrs Clinton and the US.
"She's free to like me or not," President Chavez said, and he sang a paraphrase of a popular song: "I'm not loved by Hillary Clinton... and I don't love her either."
During her talks in Bogota, Mrs Clinton also discussed the issue of Colombia's human rights record, which has been a key hurdle in securing a free trade agreement between the two nations.
She said the Obama administration would work to obtain the support needed in the US Congress to pass the long-awaited accord.
Related Internet Links
The BBC is not responsible for the content of external sites.