AIG bail-out 'poisonous', says US congressional panel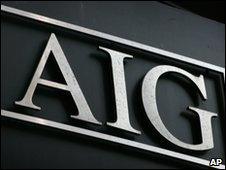 US authorities should have done more to avoid a taxpayer rescue of troubled insurer AIG, a report has said.
The Congressional Oversight Panel said the bail-out was "poisonous" and the market now expected other big financial firms facing collapse to be rescued.
The panel criticised Treasury Secretary Timothy Geithner for his role in the 2008 bail-out, which he oversaw as head of the New York Federal Reserve.
The report questioned whether taxpayers would ever recover their money.
The US authorities have provided a total of $182bn (£125bn) to save the insurance giant since it nearly went bust in September 2008.
Reacting to the panel's findings, US treasury spokesman Andrew Williams said the criticisms "overlook the basic fact that the global economy was on the brink of collapse and there were only hours in which to make critical decisions".
The report attacked the New York Fed's decision at the height of the crisis to rely on just two banks - JP Morgan and Goldman Sachs - to examine the possibility of a private sector rescue.
Those banks decided within hours that private money would not be available, meaning that a taxpayer rescue was the only option.
However, the panel said the banks had "severe conflicts of interest as they would have been the largest beneficiaries of a taxpayer bail-out".
The rescue allowed AIG to settle existing financial contracts with these same banks, paying them the full amount owed. Goldman Sachs was by far the biggest such beneficiary.
The Congressional Budget Office estimates that taxpayers will lose $36bn on the rescue.
"We want a profit," the panel's chair, Elizabeth Warren, told reporters. "We are holding the Treasury's feet to the fire."
The panel also described as "optimistic" the valuations of AIG provided by the US Treasury Department and the insurer's management.
The report comes a week after AIG's planned sale of its Asian subsidiary to the UK's Prudential fell through.
The deal would have been one of a series of sales by AIG intended to raise funds to repay US authorities.
Related Internet Links
The BBC is not responsible for the content of external sites.