Hodge elected as chair of key Commons committee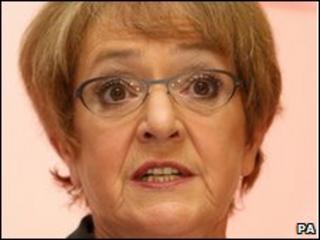 Ex-minister Margaret Hodge has been elected chairman of the influential Commons Public Accounts committee, which audits government spending.
The results of the first ever elections for select committee chairmen were announced by the Commons Speaker John Bercow.
Tory MPs Bernard Jenkin and Andrew Tyrie are to chair the Public Administration and Treasury committees.
Labour MP Keith Vaz is to remain as chair of the Home Affairs Committee.
MPs standing for the positions faced a secret ballot of colleagues for the first time in reforms intended to boost MPs' powers to scrutinise and influence government.
In the past political party bosses have been able to influence the behind-the-scenes appointments.
The roles have been divided up between parties based on the general election results.
Twelve committees are to have a Conservative MP as chairman, Labour MPs will chair 10 and Lib Dem MPs two.
The elections were conducted using the "alternative vote" system - with MPs ranking their favourites in order of preference and the first to get more than 50% of votes going through.
High profile
The chair of the public accounts committee is always held by the opposition and Margaret Hodge, a minister in both the Blair and Brown governments, beat off competition from five other Labour MPs to get the plum role.
In the fifth round of voting, she beat Hugh Bayley by six votes.
The committee scrutinises the spending of government departments and assesses the value for money of major public procurement projects.
Andrew Tyrie will take the helm of the Treasury Committee, which assumed a high public profile during the last Parliament due to its robust questioning of leading bank bosses.
Mr Tyrie comfortably beat fellow Conservative MP Michael Fallon - who was deputy chairman of the committee in the last Parliament and expected by some to win the contest.
Conservative MP Stephen Dorrell, Health Secretary in the Major government, will take charge of the health committee while Labour backbencher Graham Allen will chair a new committee examining the government's political and constitutional reform agenda.
Conservative James Arbuthnot and Labour's Keith Vaz will continue in roles they held previously on the defence and home affairs committees respectively.
Committee chairmen receive extra pay on top of their MP's salaries for doing the job. In 2010-11, they will receive an additional £14,582.
Winners
Here is the list of the new committee chairmen:
Business, Innovation and Skills - Adrian Bailey
Children, Schools and Families - Graham Stuart
Communities and Local Government - Clive Betts
Culture, Media and Sport - John Whittingdale
Defence - James Arbuthnot
Energy and Climate Change - Tim Yeo
Environment, Food and Rural Affairs - Anne McIntosh
Environmental Audit - Joan Walley
Foreign Affairs - Richard Ottaway
Health - Stephen Dorrell
Home Affairs - Keith Vaz
Justice - Sir Alan Beith
International Development - Malcolm Bruce
Nothern Ireland - Laurence Robertson
Political and Constitutional Reform - Graham Allen
Procedure - Greg Knight
Public Accounts - Margaret Hodge
Public Administration - Bernard Jenkin
Science and Technology - Andrew Miller
Scottish Affairs - Ian Davidson
Treasury Committee - Andrew Tyrie
Transport - Louise Ellman
Welsh Affairs - David Davies
Work and Pensions Committee - Anne Begg