England team raise cash for World Cup hero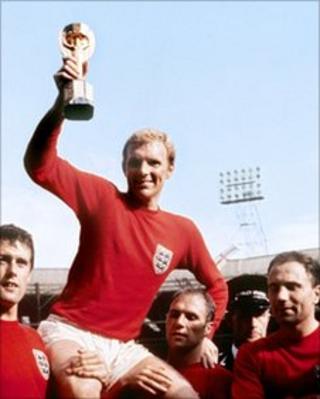 Bobby Moore holding the World Cup aloft in 1966 is an image that captured the public imagination.
Now, the current England squad are set to raise cash in his memory by donating their World Cup match fees to charity.
That means each game they play brings a cash windfall to four charities, including the one set up by Bobby Moore's widow Stephanie which raises money for bowel cancer research. The team are expected to raise thousands.
In the 17 years since the Bobby Moore Fund was set up, it has raised £14m to fund research.
'Absolute tragedy'
"The further we go, the more we raise the profile and the fewer need to die," said Stephanie.
"Every World Cup we are so optimistic and hopeful."
Stephanie said things had improved dramatically since the death of her husband at 51, with screening programmes, better treatments and research.
But she said too many were still dying unnecessarily from a disease that has a good survival rate if detected early enough.
"When Bobby was 46 he had rectal bleeding and a change in bowel habits - symptoms we now know are high risk," she said.
"Being an athlete and very fit he knew immediately when something was wrong. We went to our doctor who sent us to see a specialist who misdiagnosed Bobby with irritable bowel syndrome."
Convinced there was still a problem he continued to press his GP, who finally referred him for a second opinion and was given the devastating terminal diagnosis.
"It was an absolute tragedy that should have been avoided," she said.
"Since then so much has improved in diagnosis, screening, trials, surgery and oncology - there are massive strides forward.
"But it is still the country's second highest killing cancer."
She said that one of the main problems was that bowel cancer is considered a taboo subject in this country.
Breaking barriers
"Getting glamorous celebrities on board we have been able to raise the profile of the disease.
"If the public see the England football team at the height of their profession, the peak of fitness, talking about bowel cancer they might think 'hang on, I have those symptoms' and talk about it."
She said she thought Bobby would be proud of the footballing world.
"Bowel cancer is not a sexy disease and they are very brave to support us.
"Although this affects equal numbers of men and women the people, we don't reach are the middle-aged man who is too busy living life and on the treadmill at work.
"They are too busy to be bothered with it and go to the doctor, but through football they are getting bowel cancer messages and we are reaching them."
A spokesman for the England team said they were proud to help.
"It's great to see the whole country getting behind the team ahead of the World Cup. It's always a privilege to wear the England shirt, so it's fantastic to know that by scoring on the pitch we'll be making a real difference to the charities close to our hearts."