Cabbies in Sutton in Ashfield angry at banning threat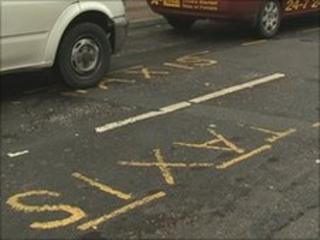 Taxi drivers in Sutton in Ashfield have voiced their anger after being threatened with being taken off the road if they park outside a taxi rank.
Cabbies said the Fox Street rank was not large enough for all the drivers and there was nowhere else suitable.
Ashfield District Council said road safety was a priority and continuous "over-ranking" could lead to drivers having their licences suspended.
It said police had voiced concerns and members of the public had complained.
Over-ranking involves taxis parking outside the designated area, whilst waiting to go onto the ranks.
'Numerous warnings'
However, cabbies in Ashfield said there were currently only 40 spaces available for 120 vehicles and one driver said another rank a few streets away from the one in Fox Street had been closed down.
Nigel Marchant of the Ashfield branch of the National Taxi Association said they had been trying to negotiate with the local authority through various trade bodies and that drivers' livelihoods were under threat.
Ashfield District Council said taxis parking outside the designated area at the Fox Street taxi rank had been a problem for many years, endangering other road users and the public and obstructing the public highway.
It said: "In spite of numerous warnings to taxi drivers, both verbal and written, they have continued to over-rank and cause a danger to other road users and the public.
"As a result, the council has recently written to taxi drivers to inform them that as this dangerous practice has continued, the council will not be issuing any further verbal or written warnings but will monitor the situation and suspend the hire vehicle driver's licence if any driver continues to over-rank."