Walsall teacher 'gutted' as activity centre is to close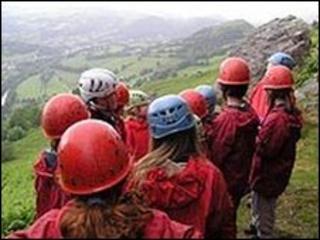 A teacher says she is devastated that her school will no longer be using an activity centre in north Wales because of council cut backs.
Walsall Council leases Bryntysilio activity centre for £500,000 a year but said it was losing money.
The council decided to close the centre and Willenhall Leisure Centre at a meeting last night.
Meg Gallahan, from Alumwell Junior School in Walsall, said the trips were vital for some children.
The council has had a partnership with the trustees of Bryntysilio dating back to the 1960s.
The council said it paid a £364 subsidy for every child that spends a week at the centre.
Ms Gallahan said she had been taking pupils to Bryntisilio, near Llangollen, for the past eight years.
"For many of our children, it is the first time they've been away from home," she said.
"It's not actually that far away but as some of our children say, it's a different country, because we're in Wales... for some children it may be the only time they do that.
"As a school, we are gutted, we are devastated.
"It's not really about the canoeing and the rock climbing... it's seeing your class mates in their pyjamas and staying awake until 1 o'clock with torches on.
"It's those things that make Bryntysilio special."
The council has said the centre, which has 18 members of staff, is past its "sell-by date" and there are other centres more local to Walsall, as well as elsewhere nationally, that could be used at a much lower cost.
Councillor Anthony Harris said that in a four-month period, only one school came forward to register its interest to use the hall.
"Bryntysilio delivers a high quality but highly expensive service and that is simply unsustainable," he said.
Willenhall Leisure Centre shuts on 1 September, but it is not known when the activity centre in Denbighshire will close.