Are GPs up for the challenge?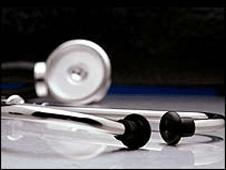 It was not long ago that GPs were the poorer cousins of the doctor fraternity.
Hospital specialists such as surgeons and cancer specialists have traditionally been both better paid and wielded more power than family doctors.
But now the tide is well and truly turning.
During Labour's 13 years in power, GP pay rocketed. With a new government in place they are now being asked to take centre-stage as the NHS gears up for the "age of austerity".
Andrew Lansley, the new Health Secretary, has made it clear he sees GPs as the lynchpins of his vision for the NHS.
He wants them to take responsibility for local budgets, believing they know more about what works than managers working for England's 152 primary care trusts.
It is an ambitious plan. It would mean GPs taking charge over deciding which services - both hospital and community - to fund.
Something similar has been tried before, but the profession has shown little appetite for it.
Mr Lansley also has his sights set on out-of-hours services. He again wants GPs to take charge, although this is not the same as providing them.
Instead, he wants them to oversee the groups - both private and NHS-staffed - delivering the night and weekend care.
And what is remarkable is that the profession, which has after all received its fair share of knocks in recent years after bumper pay rises left them open to attacks from the press and politicians alike, seems to be remarkably optimistic about the future.
The proposed changes are dominating the British Medical Association's annual conference of GPs which is being held in London on Thursday and Friday.
They figure prominently on the agenda and are the subject of much speculation in the exhibition hall and coffee bar.
There is a real belief that the new health secretary is serious about getting doctors on board.
Dr Laurence Buckman, the chairman of the BMA's GPs committee, set the tone when he said doctors were "ready, willing and able" to meet the challenge in his speech to open the conference.
Others went even further. Avon GP Dr Mark Cocoran described Mr Lansley as the "kind of man" GPs could work with.
And Dr Brian Balmer, a GP based in the north of Essex, like many others, was excited about the prospect of holding the financial purse strings of the NHS.
"It is right that these decisions are made locally. GPs are in a great position. They are there on the front line and many have patient participation groups so can involve patients in the really tough decisions.
"There is no reason why it can't work."
But he warned the government not to force the issue on to GPs, adding: "That is sure to put people off."
However, that is not to say doctors are unanimously behind the government.
There are still many issues to be resolved, such as how GPs will be held to account if they are given this extra power and what to do in areas where doctors do not want the responsibility.
But it is the third plank of reform directly affecting GPs that is causing most concern.
The government is keen to abolish practice boundaries.
Much as the coalition has talked about freedom of choice over schools, ministers want patients to be able to register with any doctor they want, in the belief this will drive up standards by encouraging competition.
But Dr Anthony Warren, a GP from Cambridgeshire, warns it could destabilise general practice.
He says some practices may find themselves "overwhelmed", while rural centres could be harmed by losing commuters - considered essential to many practices as they tend to be the least reliant on GPs, and thus help to cover the costs of treating more complex patients.
"This would affect the most vulnerable," he says.
Dr Mark Sanford-Wood, from Devon, agrees. He believes the move could fragment services, as GPs work in close partnership with other community staff such as physiotherapists and district nurses.
"Locally co-ordinated teamwork is the heartbeat of the NHS. We shouldn't undermine this."
The BMA has already recognised this as an issue and has asked the government to consider what are being dubbed "fuzzy borders".
This would not entail a wholesale scrapping of the current restrictions, but would instead allow some blurring around the edges to allow some shopping around, and end cases where a move across town automatically means a change of doctor.
Perhaps the last word should go to Dr Buckman, who in his role acts as the direct link between the government and profession.
He says: "We are optimistic, there is a new government and new opportunities. But we are reserving judgement. We felt optimistic in 1997 and that did not work out as we would have wished."
Related Internet Links
The BBC is not responsible for the content of external sites.