'Mythical' rich businessman used in Ritz 'sale plot'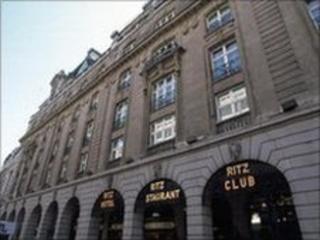 Three men accused of trying to fraudulently sell the Ritz in London repeatedly referred to a "mythical rich Irish businessman", a court has heard.
Property developer Terence Collins told Southwark Crown Court they told him that he could buy the hotel for £250m as they were close to the Barclay brothers, who own the Ritz.
Mr Collins said the three often spoke of an unnamed Irish partner who was also close to the owners. Conn Farrell, 57, Patrick Dolan, 68, and Anthony Lee, 49, deny conspiracy to defraud.
'Move quicker'
The jury heard that Mr Dolan, of Philip Lane, Tottenham; Mr Farrell, of Cambridge Road, Aldershot, Hampshire, and Mr Lee, of Broad Lane, Goole, East Yorkshire, "sucked in" trophy property buyers Terence Collins and Dutch financier Marcus Boerkhoorn between January 2006 and March 2007.
They claimed to have a deal to buy the Ritz in Piccadilly for £200m, the court heard.
And they claimed they could sell the hotel, which was then valued at £600m, for £250m because of their relationship with Sir Frederick and Sir David Barclay.
Mr Collins, the company secretary of London Allied Plc, and Mr Boerkhoorn were convinced enough to put down a deposit of £1m, the jury heard.
Of the "relationship" between the defendants and the Ritz owners Mr Collins said: "They were all known to each other and that there was a mythical - sorry I shouldn't use that word - there was a rich Irish person who was a partner who had the other contact with them, who I never met or knew the name of.
"Mr Lee, or his Irish partner, was very close to these people. The Irish partner was frequently used, a rich Irish partner."
He added that the defendants also tried to "urge us to move a little quicker" claiming that another party has offered them a higher price.
Mr Collins told the court why they pursued the deal.
"We decided it was an opportunity. We knew that we could get the funds."
The case continues.