Belfast college awaits cuts news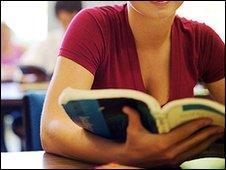 Staff at Belfast Metropolitan College are preparing for news of cutbacks in budgets and student numbers.
The college has been told it is losing 350 "higher education" student places.
That is expected to mean a reduction in its budget by more than £2m. It already has a significant deficit, estimated to be about £3m.
It will also mean disappointment for students who will be less likely to win places in subjects including business and hair and beauty.
A recovery plan has been drawn up by a firm of consultants.
Other subjects expected to be affected include journalism and performing arts.
Some of the college's outreach centres may also be closed in order to save money.
Related Internet Links
The BBC is not responsible for the content of external sites.