World Cup kick-off excites newspapers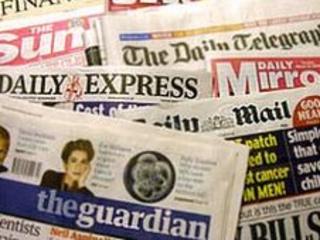 "Cup of hope" is the headline on the front of the Daily Mirror on the day that football's biggest contest finally kicks off.
The World Cup "crowns the transformation of South Africa from international pariah during the evil era of apartheid into a land with enormous potential", it writes.
"Africa rising" is the similarly optimistic headline in the Independent.
If the World Cup captures "a fraction of the racially unifying spirit of its rugby equivalent 15 years ago", all the money spent on it will be worth it, the paper feels.
Helmand branch
"Come on England, make us proud and bring that trophy home," pleads the Daily Express.
The Sun wants the boys to do it for the "Khaki Army" - British troops in Afghanistan, who have sent a good luck video to the team.
It says the message of support from the "England fan club, Helmand branch" gave the players a big boost.
The Daily Star says Rooney and co have vowed to repay them: "We'll win World Cup for England's TRUE heroes."
Relationship strained?
David Cameron comes in for criticism in several papers for not defending BP from US attacks over the Gulf oil leak.
"Stand up for your country Mr Cameron", demands the Daily Mail.
The Daily Telegraph says the row is the first test of the so-called special relationship since the coalition government came to power.
The Financial Times says the PM has at least tried to stress the "economic value" BP brings to the US - words it sees as "a distinct shift of tone".
'Unlawful killings'
The Times says "a radical reform of child benefit" is being considered by the government.
Poverty adviser and MP Frank Field says there is "a clear case for more money in the early years to help mothers stay at home", but the payments could be withdrawn when a child is 13 or 14.
The Guardian claims that several of the Bloody Sunday killings will be ruled unlawful by the long-awaited inquiry.
"Memories of 1972 are raw and families' desire for justice burns" even now, the paper adds.