Sophie Anderson parents discharged by court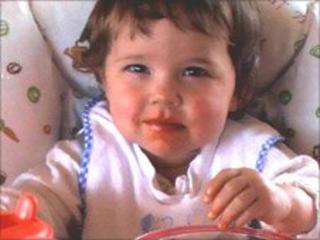 The parents of toddler Sophie Anderson have received 12-month conditional discharges for abducting her.
Lucy Anderson, 30, of Eden Avenue in Portadown, and Stuart Creaney, 21, of Edenderry Park in Banbridge, cried when they appeared at Armagh Court.
The toddler, who had been in foster care, was reported missing on Monday and was found in Scotland on Thursday.
A district judge said the couple would face restrictions in access to their daughter from the family court.
He said this would be enough punishment.
Speaking after the court's decision, Sophie's grandmother Cynthia Creaney said the news was "wonderful".
"I didn't think there would be such an outcome," she said.
"I was expecting the two of them to get put away. I am so pleased."
Sophie was found in a caravan park in Dumfries three days after being reported missing.
She had been with foster parents for more than a year, but had been in regular contact with her birth parents.
On the day Sophie disappeared, it was arranged that her mother would collect her from a social worker's office and take her on an unsupervised visit to a mothers and toddlers' group, where they could have contact in a more natural environment.
However, they did not turn up.