SNP push on with alcohol pricing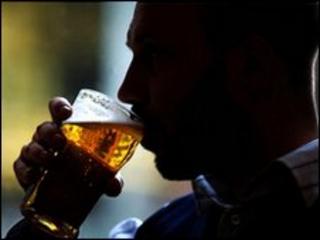 Health Secretary Nicola Sturgeon has accused opposition parties of "game-playing" after plans for minimum pricing for alcohol were voted down.
The Tories and Labour joined forces in the Scottish Parliament to back an amendment calling for the plans to be struck from the SNP's Alcohol Bill.
Ms Sturgeon said she would continue to make the case for minimum pricing.
Other proposals in the bill such as banning drink promotions were supported.
The bill also contains a range of other measures aimed at tackling Scotland's problem with drink, including a social responsibility levy for licensed premises and tighter rules on proof of age.
MSPs voted for the principles of the bill but an amendment was passed calling on the government to ditch section one, which contains the minimum pricing proposal, when it comes before MSPs at stage two.
Legal effect
Ms Sturgeon said: "What we had in parliament yesterday was a bit of procedural game-playing by the opposition, Labour and Tory.
"That amendment does not have any legal effect.
"Minimum pricing will now be considered at stage two."
Tory deputy leader Murdo Fraser said: "This is the end of the road for minimum pricing. The Scottish Parliament has voted for the first time to reject the policy."
Labour MSP Dr Richard Simpson called for an effort to change drinking culture and accused Ms Sturgeon of being dishonest when talking about "overwhelming evidence" in favour of minimum pricing.
The Liberal Democrats abstained from voting on the amendment.
Their health spokesman Ross Finnie said Ms Sturgeon and the SNP Government were responsible for the defeat.
He said: "The Scottish government has failed to make the case for minimum pricing.
"The SNP still refuse to confirm what the minimum price per unit will be. We don't know if minimum pricing is legal."