McGuinness attacks Bloody Sunday Guardian 'speculation'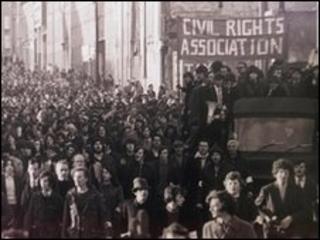 The families of those killed on Bloody Sunday are angry at newspaper 'leaks' ahead of the Saville Inquiry report.
Thirteen people on a civil rights march were shot dead by paratroops in Londonderry on 30 January 1972.
The Guardian said Lord Saville's report - which has taken 12 years to compile and is due to be published on Tuesday - will say some were unlawfully killed.
Sinn Fein's Martin McGuinness said the leaks were "heaping anguish upon anguish" upon the families.
Mr McGuinness, who admitted to the inquiry he was an IRA commander in Derry at the time, said it was important to wait on the detail of the report and not rely on speculation.
He said: "Those who are tempted to run with stories need to take on board the terrible suffering that these people have endured for almost 40 years. Why exacerbate it at this stage with only four days to go?"
Asked about the possibility of soldiers being prosecuted 38 years after Bloody Sunday, he said: "I've heard people say in the city over the course of the last number of weeks that they would like to see prosecutions, and they would like to see convictions - but they are not really interested in seeing people go to prison.
"There will be varying views in the city here about what should happen.
"I think in the here and now, all we're really interested in is what is going to be Saville's judgement on all of this next Tuesday."
Liam Wray, whose brother Jim was killed, said the leaks were wrong.
"This report is going to come out in full in four days' time," he said.
"It would be a more sensible and dignified approach for journalists who are sensible to say: 'Look, respect the families and respect the situation. They are under great stress. We will wait until the day.'"
The government said the speculation added to the stress of those involved.
A spokesperson for the Northern Ireland Office said: "The report will be published in a few days and everyone can read it then.
"The people directly affected by all of this - the families of those killed and injured, and the soldiers - have waited a long time for this report, and speculation of this kind only adds to the stress and anxiety that they must all feel."
Public domain
The Guardian have not seen the report but have been briefed by people who may have seen it, believed to be political rather than military sources.
The paper's Ireland correspondent, Henry McDonald, said he does not know how many of the killings are likely to be described as unlawful.
BBC Northern Ireland reporter Paul McCauley, who covered the inquiry, said the speculation that some of the soldiers would be accused of unlawful killing could be supported by information already in the public domain.
He pointed to the finding of the first Bloody Sunday inquiry, conducted by Lord Widgery in 1972, which found that four people shot dead in Glenfada Park had posed no threat to soldiers.
Pathology findings also showed those victims had been shot in the back while running away.
Lord Widgery found those shootings "bordered on the reckless" and that one of the soldiers who fired 19 shots had not been telling the truth about his actions.
The Guardian said it was not clear whether Lord Saville would directly recommend prosecutions.
Our reporter said the Public Prosecution Service (PPS) would have much to consider before taking such a step.
"The soldiers have taken part in two very public inquiries, they have been given immunity on self-incrimination. The PPS would have to take all that into consideration and then decide whether there would be a genuine possibility of any solider being successfully prosecuted."
Our reporter added that the Bloody Sunday families are not happy about the leak because they had "gone to great lengths" to be allowed to see the report before it was laid before Parliament and published.