Funeral for Cumbria gun killer's solicitor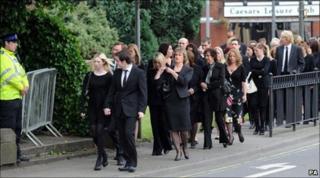 The funeral has taken place of the second victim of Cumbria gunman Derrick Bird.
Kevin Commons, who was the killer's solicitor, was found shot dead in the driveway of his home in Frizington.
Hundreds of mourners gathered at St John's Church in Workington to pay tribute to the 60-year-old.
A well-known figure in the west of the county, he had also acted for Bird's brother David, who was the first of 12 people to be murdered on 2 June.
Speaking in the town, Catherine Smith, 31, said the service was a "show of respect and support for the family."
Local resident Ian Graham, 63, said: "It's a tragedy, you can't believe all of this has happened.
"I met Kevin once when we needed a solicitor and he was so helpful. Everybody here in Workington is feeling for the people in the other areas too.
"It's so sad. We will think about that day for a long time. We won't forget this, we will always remember."
Mr Commons was a senior partner at law firm KJ Commons, which has offices in Whitehaven, Carlisle and Workington.
The firm said he had been "committed to the service of the local community" in west Cumbria and beyond.
After killing his brother and Mr Commons, Derrick Bird went on the rampage before driving to Boot in the Lake District, where he shot himself.
Many of the funerals of those killed will be held next week.
The service for Mr Commons came ahead of a visit to the area by Prince Charles, who met emergency services workers who helped the victims of Derrick Bird's rampage.
The prince talked to staff at West Cumberland Hospital where some of the 11 people who were wounded by Bird were treated.
He also met the rector of Whitehaven and spoke with faith, community and civic leaders before signing a book of condolence.