Dog unit army major among Queen's honours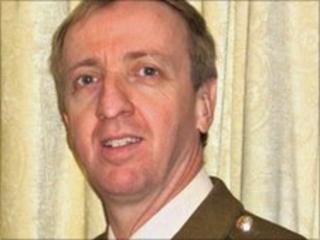 An army major who set up a unit of dogs trained to sniff out explosives in Afghanistan is among the military personnel recognised in the Queen's Birthday Honours.
Maj Christopher Ham founded the Rutland-based 104 Military Working Dog Support Unit. He is made an MBE.
Maj Phil Packer, injured in Iraq, is also made an MBE for his fundraising.
And Navy Warrant Officer Andy Collings is made an MBE for supporting bereaved families.
Dogs play an important role in military missions overseas - particularly in sniffing out improvised explosive devices.
Treo, a black Labrador based at the North Luffenham barracks in Rutland, was this year awarded the Dickin Medal - the animal version of the Victoria Cross - for twice finding hidden bombs in Helmand province.
'Humbled'
Maj Ham, of the Royal Army Veterinary Corps, said the MBE rewarded the efforts made my those in the dog team.
"It's fantastic that the work done by all the members of the unit, both civilian and military, who set it up from scratch have been fully recognised," he said.
Wounded veteran Maj Packer, 37, who was left paralysed from the waist down by a rocket attack in Iraq in 2008, said he was "humbled" to learn of his MBE.
In six months last year he rowed the English Channel, walked the London Marathon in 14 days and scaled El Capitan by completing 4,250 pull-ups.
He has raised more than £1.3m, earning him the BBC Sports Personality of the Year's Helen Rollason Award.
This year he has already climbed the Three Peaks for Sport Relief in 72 hours and completed the London marathon in under 26 hours.
He said: "I am honoured and deeply humbled to receive such recognition. The support I have given to our injured was a natural path during my own personal journey.
"I hope to continue to serve in a different way by giving the same level of support to the thousands of young people who face adversity and challenges on a daily basis."
Senior positions
Royal Navy Warrant Officer Andy Collings is appointed an MBE for his role supporting bereaved families as a funerals officer and for community work in Plymouth.
He described his work as demanding, but also "a privilege".
"It has been my honour to provide them with loving, caring, dedicated and positive support in what is a very dark time for them," he said.
Amongst the most senior positions, the Royal Navy's First Sea Lord, Adm Mark Stanhope, is appointed a Knight Grand Cross in the military division of the Order of the Bath.
The Cold War submarine commander, who took up his post last July, recently warned staff to prepare for surprises, saying the Afghan conflict was not the "only game in town".
Maj Gen Andrew Gregory, in overall charge of Army personnel, was made a Companion in the Order of the Bath, and said the "wonderful recognition" was "humbling".
He said part of his job was to ensure the wounded and injured were properly supported.
The top honour in the Royal Air Force went to Air Vice Marshal Carl Dixon, the director of information, for his "tireless commitment and outstanding contribution" to the RAF.
AVM Dixon served in the Falkland Islands, Northern Ireland, Rwanda, former Yugoslavia and Kosovo.