Bet of £37,000 on Wayne Rooney by Haverfordwest punter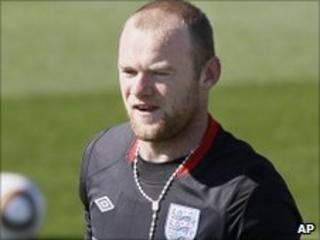 A bookmaker says a Welsh punter stands to win £440,000 if England's Wayne Rooney finishes top World Cup scorer.
Coral said a regular at one of its shops in Haverfordwest, Pembrokeshire, walked in and placed £37,000 at odds of 11-1 on the striker.
It said it was the largest wager it had taken so far for the competition that has kicked-off in South Africa.
Spokesman David Stevens said it was "an unusual bet" in itself, and more so as it was placed by a Welshman.
"We knew the patriotic gamble on England would begin ahead of their opening match against USA this weekend, but little did we think that we would take our biggest bet yet from a Welshman," he added.
"They may not be cheering on England in Wales, but one punter at least will be hoping Wayne Rooney is a hit in South Africa."