Devon Royal Navy men honoured by Queen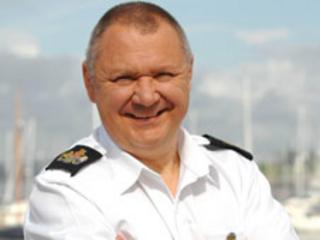 A Royal Navy submarine commander and a sailor have been honoured by the Queen.
Kevin Gomm becomes an OBE for his services as commander of a nuclear-powered attack submarine.
The 51-year-old from Exeter was in command of HMS Trenchant in 2007
Andy Collings, from Plymstock, is appointed MBE for his community work.
The warrant officer's duties at Devonport Naval Base include supporting bereaved families.
As funerals' officer, the Royal Navy said WO Collings was recognised for the "emotionally taxing and professionally demanding duties" for which he had shown "tremendous fortitude" and provided excellent and sympathetic support to families.
WO Collings said he was overwhelmed, speechless and humbled to be honoured for simply doing his job.
"It is an awesome privilege for others to think so highly of you they nominate you for this award," he said.
"I have been completely humbled by this situation and still struggle to accept it is true.
"I have a wonderful job - to be rewarded for doing something I obviously enjoy is something very special."
Cdr Gomm was in charge on HMS Trenchant in 2007 when it was on patrol during a "particularly intensive period".
His award citation said his drive and determination were key to the successful completion of submarine operations.
"I am absolutely delighted that my time in command of Trenchant has been acknowledged in this way," Cdr Gomm said.
"I was lucky to have worked for a fantastic ship's company and had a submarine that ran and ran."
He is now working for the Devonport flotilla of ships and submarines.
___________________________________________________
Other honours in Devon:
OBE
Nigel Hoskin, from Yelverton, for services to Dartmoor National Park
Susan Adams, from Crediton, for services to the housing sector for older people
Former deputy chief executive of Devon County Council, Edward Chorlton, for services to local government
Nicholas Randle, from Honiton, for services to local government
MBE
Former train driver and county councillor Richard Westlake, from Exeter, for services to public transport and the community
Susan Farrington (known as Doble), from Hockworthy, for services to British heritage in Pakistan
Peter Flukes, from Liskeard, for services to the community in Wolseley, Plymouth
Crime Prevention Panel Chairman Robert Gilliat, from Ilfracombe, for voluntary service to the police
Elizabeth Kerr, from Exeter, for voluntary service to disabled children
William Little, from Totnes, for services to the community in Dartington
Anne Walker, from Newton Abbot, for services to business
Vivienne Yandell, from Kingsbridge, for services to business and charity in Saltash, Cornwall
Queen's Fire Service Medal
Neil Gibbins, deputy chief fire officer, Devon and Somerset Fire and Rescue Service