Papers ponder US-UK relationship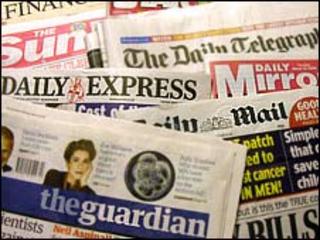 US President Barack Obama and England captain Steven Gerrard make an unlikely front page pairing for the Independent.
The paper says there are two transatlantic battles taking place: the USA versus Britain, and England versus the USA.
It is referring to relations between Washington and London following the BP oil spill, and the World Cup match.
The disaster in the Gulf of Mexico has provoked head-scratching in the editorials about Britain and America.
'Special Relationship'
It is perhaps more a partnership founded on the need for national security than a "special relationship", says the Daily Telegraph.
The Guardian argues David Cameron cannot afford to wreck the "special relationship" by attacking Mr Obama.
But the Daily Mail's leader appeals to the prime minister to call a halt to what it calls Mr Obama's "vengeful posturing" over the matter.
The Daily Mirror argues the president is just fighting his country's corner.
Brothers' battle
David Miliband's trips to the US - to meet his adopted children as they were born - are described in a very personal interview in the Times.
The Labour leadership contender describes his and his wife's choice to adopt after "emotionally exhausting" attempts to conceive using IVF.
His brother and rival, Ed Miliband, gives a more political interview to the Daily Telegraph.
He argues the party needs to be more accountable to its members.
England awaits
The opening ceremony of the World Cup adds colour to all the newspapers.
"Dancing dung beetle puts Africa on map" is the Daily Telegraph's headline above the gigantic robotic insect, which it calls the most incongruous moment of the ceremony.
The Daily Mail explains that the creature is revered in South Africa because it nourishes the soil.
The Sun urges England on in jargon perhaps designed for US supporters.
"Here's hopin' that England United shoot some totally awesome strikes past the goaltender in the soccerball world series today," it declares.