RBS and NatWest pledge on 'last branches in town'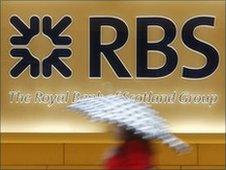 Royal Bank of Scotland has promised its branches will not be closed where it runs the only bank left in a town.
The pledge, also covering its NatWest subsidiary, is part of a 14-point customer charter published on Sunday.
It is intended to help the bank regain public trust after it required a giant government bail-out.
Other elements of the charter include 200 branches opening earlier and closing later on weekdays, and more branches opening on Saturdays.
There are also measures being taken to reduce customer waiting times in branches.
The pledges extend to giving customers annual reviews of their finances, early-warning support for customers facing financial difficulties, and clearer information on services.
The promise not to leave towns without any bank facilities would apply to about 100 communities across Britain.
That could increase if other banks close branches, but Brian Hartzer, Chief Executive of UK Retail at RBS, said it was "simply the right thing to do".
He added: "Access to services is incredibly important. We're major players in the market, we have a real responsibility with our banking licence to be responsive to community concerns, and one of the things that came out of our research was that this issue of accessibility was really important.
"It's a good way of saying we have made mistakes, we have learned that we need to make business sustainable again, and an important part of that is doing things that are of value to the community."
After surveying opinion from 30,000 customers, Mr Hartzer said: "There's been a lot of pressure on the overall group brand, but at a local level, we've found customers still trust their local bankers, they are looking for us to get back on our feet, and do the right thing by them."
He went on: "We had a really close call as a business and are thankful we were rescued. We have since taken stock on how we do things.
"There's a lot we do well for customers, but we can do more and we want to change. This won't happen overnight, but the customer charter is our pledge that we are on the case and will be held to account against the progress we make."
The customer charter has been backed by the Money Advice Trust, which was consulted on it.
Related Internet Links
The BBC is not responsible for the content of external sites.