The prudent US-UK diplomacy of the BP spill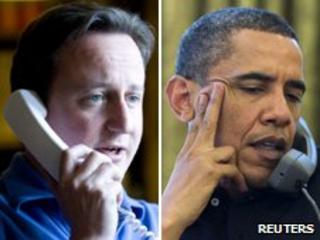 Government ministers have been careful not to get drawn into a debate about Barack Obama's comments on BP.
In the words of Deputy Prime Minister Nick Clegg - they did not want to allow the issue to spiral into a "tit for tat political diplomatic spat".
It is hardly surprising they saved the discussions for a weekend phone call between David Cameron and the president.
The question is: what exactly was said in that call? Different points were emphasised by different sources.
Downing Street's account had the president saying frustrations about the oil spill had nothing to do with national identity, and making clear he had no interest in undermining BP's value.
BP's 'obligations'
The White House version contained more detail about their views on the outcome of the England USA World Cup match than it did on BP.
But a briefing from a senior administration official in Washington said while President Obama did say US frustration had nothing to do with national identity, he went on "but has to do with ensuring that a large, wealthy company lives up to its obligations".
The official added: "He [President Obama] said BP must meet its obligations to those whose lives have been disrupted and we will insist everything be done to cap the well, capture the oil, and pay for the clean up, the environmental damage done and the tens of thousands of economic claims as a result of this disaster."
The accounts do not conflict with each other, but they do cast the conversation in a differing light.
While not wanting to create a diplomatic argument, Mr Cameron's government has been keen not to appear disengaged.
Both the prime minister and his Chancellor of the Exchequer George Osborne have spoken to BP chairman Carl-Henric Svanberg.
But for BP, and its shareholders, the meeting that really matters takes place in the White House on Wednesday when Mr Svanberg meets President Obama.