Armed forces chief Sir Jock Stirrup to quit early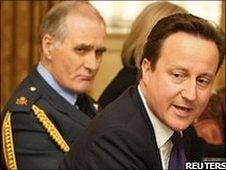 Britain's most senior military officer will quit in the autumn, before the end of his term in April 2011, Defence Secretary Liam Fox has said.
Air Chief Marshal Sir Jock Stirrup has been chief of the defence staff since 2006 and was asked to extend his term by the previous government.
Ministry of Defence civil servant Sir Bill Jeffrey will also go.
The BBC's Caroline Wyatt said the move would be seen as the new government's bid to draw a line under past failings.
Critics say Sir Jock, a former jet pilot, has not done enough to support Britain's front-line troops in his role as the head of the armed forces and the government's principal military adviser.
There have been accusations that a poorly-equipped British army has been fighting the Taliban in Afghanistan with too few troops.
There has also been criticism of excessive spending on MoD procurement.
But Mr Fox said there had been an "amicable" discussion about "what was best for the department" and it would be wrong to suggest the two men had been fired.
"This is all about timing", he said.
He told BBC One's Politics Show: "I really don't think, whatever mistakes were made in Afghanistan or anywhere else, that the blame should land anywhere else but firmly on the desks of politicians.
"They were the ones responsible. They were the ones ultimately who took the decisions and I rather think it's a bit cowardly for politicians to be blaming people who work for them rather than taking the decisions themselves."
Similar sentiments were expressed by Foreign Secretary William Hague, who told BBC One's Andrew Marr Show there would be a "natural point" for a change of personnel in autumn, once the current strategic defence and security review was over.
But former Army commander Lieutenant Colonel Stuart Tootal, who commanded the first soldiers to be sent to Helmand, said there had been "chronic mismanagement" of defence in the last sort of 12 years or so.
"We have a tendency to blame ministers," he told BBC Radio 4's The World This Weekend.
"But we can't ignore the role of the professional heads in the form of the CDS (chief of defence staff) and the PUS (permanent under-secretary), who advise our ministers on what the armed forces should look like and what they do."
He said it made "absolute sense" to get a new team in, but Sir Jock should leave before the review, as otherwise "the new chief of the defence staff has actually to inherit what someone else has designed".
Sir Jock was forcefully advised by commanders on the ground in Helmand of the "absolute requirement" for more troops and helicopters, but was "very slow" to recognise the need to act, he said.
"There have been significant improvements over the last three years, but they have taken a very long time to be made," he said.
The argument for better resourcing was "put hard at the lower levels, but the CDS has the absolute responsibility to push the right line - however unpalatable it may be - to ministers and get them to make the right resourcing decisions".
Shadow defence secretary Bob Ainsworth, who worked with the outgoing pair when Labour were in government, paid tribute to the men, saying they "both played an incredibly important role at the Ministry of Defence in often very difficult circumstances".
He said they always had his "full confidence" and added that he was pleased they would remain in place for the strategic defence and security review since "their skills and experience will be an invaluable contribution".
Some senior military figures said the role of chief of the defence staff had become too politicised.
Rear Adm Chris Parry said: "One has to remember that senior military officers have great responsibilities. They have to be politically accountable.
"But I do think that in the latter stages of the last administration some of our senior officers became politicised, and I'm afraid became too much something that wasn't independent and impartial."
Lord West, a former head of the Royal Navy, said: "I think any government needs pure military advice and if it doesn't get that sometimes, it can make terrible mistakes."
Sir Jock is likely to be replaced by an Army man - either the chief of the general staff, Gen Sir David Richards, who commanded Nato forces in Afghanistan, or the vice-chief of the defence staff, Gen Sir Nicholas Houghton.
Permanent Under Secretary Sir Bill Jeffrey has been in his post since 2005.
In a message to staff on Friday, he said his intention had been to depart last autumn, but he had been asked to stay on until after the election and now the review, and was "very glad to do so".
Some 295 British service personnel have died in Afghanistan since military operations there began in 2001 in the wake of the 9/11 attacks in the US.
British troops joined a US-led coalition that invaded the country because the Taliban in Afghanistan were accused of providing a sanctuary for al-Qaeda leader Osama Bin Laden.
Since then, efforts to help the Afghan government maintain security across the country have met resistance from Taliban insurgents.
Last week was one of the worst for Nato forces in Afghanistan since the start of the war. Some 32 Nato troops, including three Britons, have been killed since last Sunday.
Related Internet Links
The BBC is not responsible for the content of external sites.