Belgium's Flemish separatists make big election gains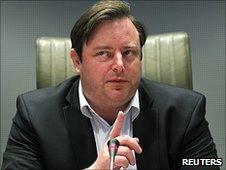 Belgium's Flemish separatist party, the New Flemish Alliance (NVA), has emerged as the largest force in parliament, with coalition talks set to start.
The NVA, whose ultimate aim is independence for Flanders, Belgium's northern half, took 27 of 150 seats.
The Socialists from the southern half, Wallonia, came second.
Correspondents say lengthy coalition talks could undermine efforts to control Belgium's debt and overshadow its upcoming EU presidency.
Belgium's King Albert was expected to start consulting party leaders on Monday, on the prospects for forming a new government.
Some analysts believe the next coalition will take in as many as eight parties, the BBC's Dominic Hughes in Brussels reports.
Such a coalition might force the NVA leader Bart De Wever to tone down his nationalist rhetoric.
His supporters chanted: "Long Live a Free Flanders" as the result became clear on Sunday night.
Support for his party surged, increasing its representation in the lower house of parliament by 19 seats, according to near-complete results.
However, the Socialist party from French-speaking Wallonia also gained seats - giving it an expected total of 26. Combined with the Socialists from Dutch-speaking Flanders, it would form the largest bloc in parliament.
The party's leader, Elio Di Rupo, could therefore become the first French-speaking prime minister since 1974.
Mr De Wever said he would be prepared to back a Walloon as prime minister if that would bring more powers to Flanders.
"You don't have to like each other to work together," he said.
Mr Di Rupo acknowledged that the Flemish majority had "manifestly" voted for "institutional change".
The result is a significant loss for Premier Yves Leterme's coalition of Christian Democrats, Liberals and Socialists.
His government collapsed in April over a long-standing dispute about voting rights in municipalities around Brussels, and the election was brought forward by one year.
Much of public and political life in Belgium is dominated by bitter debates around language and the allocation of public resources.
Government aid to poorer Wallonia, home to four million French speakers, has caused resentment among Belgium's 6.5 million Flemish majority, correspondents say.
Until now separatist parties have been on the fringes of political debate.
But Mr De Wever, 39, has pushed his party into the mainstream over the last three years while the other parties have been locked in a political stalemate.
The country also faces economic problems, and some analysts say that Belgium cannot afford a long period of uncertainty.
During the last three years the national debt has grown to unmanageable proportions.
The country's ratio of debt to gross domestic product is behind only Greece and Italy in the eurozone, analysts say.
Belgium is also taking on the six-month presidency in the European Union in July.
Normally the EU presidency gives a country a higher international profile. But it may have come along at just the wrong time for Belgium if coalition talks drag on, our correspondent says.