Drink seized from youths in Northumberland seaside town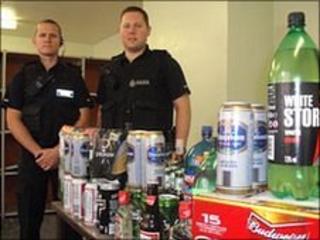 Almost 50 litres of alcohol was seized and 400 young people searched in a police crackdown on underage drinking in a Northumberland coastal town.
The four month operation was carried out in Blyth.
Police also sent 78 anti-social behaviour notices to parents of those stopped by police and caught drinking or behaving in an anti-social way.
Northumbria Police said anti-social behaviour in the area had reduced by 20% as a result.
The majority of the operation, prompted by residents' concerns, was carried out in the "hot spot" areas of Ridley Park and Blyth beach.
Twelve people were also issued with direction to leave orders barring them from certain areas for up to 48 hours.
Pc David Ostle, who oversaw the initiative, said: "Officers increased high visibility patrols in the identified problem areas and stopped and spoke to youths, seizing alcohol and contacting parents.
"Off licences were checked regularly and those found to be supplying alcohol to youths have been targeted and positive action taken.
"And as a result of all the hard work anti-social behaviour in the area has dropped by 20%."