Papers assess BP oil spill fallout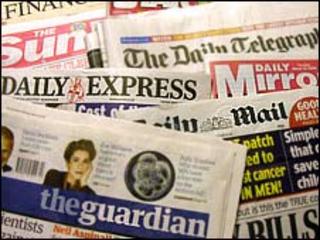 "Crunch Time for BP" runs the main headline in the Independent, which says the White House has "turned up the heat" on the beleaguered company.
The Daily Telegraph predicts the firm's shareholders will be denied their dividend after a BP-owned rig blew up in Mexican gulf, killing 11.
The Daily Mail is infuriated, accusing President Barack Obama of driving a British-based company "to the wall".
The "gushing geyser" of his anti-UK rhetoric needs to be capped, it says.
'Marching orders'
The news that the country's top military officer is to stand down early prompts intense scrutiny of his record.
For the Times, the departure of Air Chief Marshal Sir Jock Stirrup marks the end of what it calls a "less-than-glorious" four-year reign.
But the Daily Mirror believes Sir Jock has been handed his marching orders "in a shabby way".
The new government is now seeking "a tame brass hat" by promoting one of its own, the paper asserts.
Afghanistan troop cut?
The Daily Telegraph believes Sir Jock's departure is part of a new "hard-headed" approach to Afghanistan by the coalition government.
It says a Commons statement by David Cameron later will raise hopes British troop numbers in the country will be reduced "in little more than a year".
The Guardian carries an investigation revealing a huge disparity in death rates for NHS patients.
The paper says they are less likely to die in bigger hospitals.
Blunder bonus
Finally, a photograph of England's blundering goalie, Robert Green, seeking solace on a golf course in South Africa occupies many front pages.
"So How Many Shots Did You Drop Today, Robert?" asks the Daily Telegraph.
Other papers are unexpectedly forgiving. The Sun says Green should not become "Public Enemy Number One".
The Telegraph quotes PR experts who say Green should capitalise on his misfortune - by starring in adverts referencing his blundering moment.