Karate Kid wins US box office fight with Shrek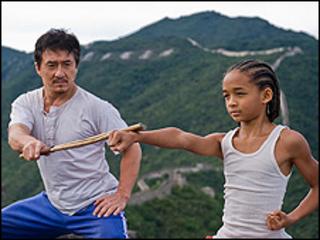 The Karate Kid, starring Jackie Chan and Jaden Smith, has smashed its way to the top of the North American box office in its debut weekend.
The reboot of the 1984 original took $56m (£38m), kicking Shrek Forever After into third spot.
The A-Team, an action film based on the 1980s TV show, pulled in $26m (£17.7m) to take second place.
Comedy Get Him To The Greek and Killers rounded out the top five with receipts of $10m (£6.8m) and $8.2m (£5.58m).
Canine comedy
Get Him To The Greek stars comedian Russell Brand as out-of-control British rock star Aldous Snow, while Killers is an action-comedy starring Katherine Heigl and Ashton Kutcher.
Prince of Persia: the Sands of Time with Jake Gyllenhaal and Gemma Arterton, took $6.58m (£4.48m) in the sixth spot, and canine comedy Marmaduke took $6m (£4.08m).
Sex and the City 2 fell to eighth place with earnings of $5.53m (£3.76m), trailed by Iron Man 2 with $4.55m (£3.1m).
Mad science and monster flick Splice took $2.86m (£1.9m) in tenth spot.