Q&A: Colombia hostage situation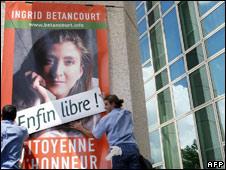 The abduction of people, either for political reasons or for ransom, has been common in Colombia in recent decades, earning the country notoriety as the kidnap centre of the world.
By 2001, it was estimated that some 3,000 people were being seized each year by armed groups and drug traffickers.
Since then, kidnappings have declined, although the exact number of people still in captivity is disputed.
In February 2011, left-wing Farc guerrillas released several hostages. The Colombian government has made the release of all hostages a condition for any peace talks with the Farc.
How many people are being held hostage?
According to Fondelibertad, a department attached to the defence ministry and responsible for co-ordinating anti-kidnapping efforts, 79 people were definitely in captivity as of February 2010.
Fondelibertad said its research showed that of nearly 2,800 cases recorded in 2007, more than 1,100 people had been freed, 211 had died, and 614 cases were unclear.
Fondelibertad also documented more than 700 cases of what it termed "forced disappearance" rather than kidnapping.
Its figures were disputed by non-governmental organisations involved in monitoring kidnappings. Pais Libre and Nueva Esperanza said the dramatic drop in the kidnap figure was hard to believe.
Do we have any idea who is being held?
The Colombian government says rebels from the Revolutionary Armed Forces of Colombia (Farc) still hold more than a dozen members of the security forces and scores of civilians. The rebels have long wanted to exchange these "high-profile" hostages for several hundred jailed guerrillas.
Although most of the focus falls on the Farc, over the years kidnappings have been carried out by other armed groups as well as criminal gangs, often for ransom.
What attempts have been made to free the hostages?
In June 2010, Colombian security forces mounted a rescue mission in which two senior police officers and a soldier were freed after more than a decade in captivity. Another police officer fled in the confusion and was later found alive in the jungle.
The most dramatic and high-profile rescue was in July 2008 when 15 hostages were released without a shot being fired after rebels holding them were tricked into handing them over.
They included Ingrid Betancourt, a French-Colombian politician, who was running for president when she was kidnapped in 2002.
Also among the group were three American military contractors - Marc Gonsalves, Thomas Howe and Keith Stansell - and 11 members of Colombia's security forces.
It was a major blow for the Farc to lose such high-profile hostages.
Have there been other unilateral releases by the rebels?
In March 2010, two hostages were freed - the first such releases for more than a year.
The negotiations were led by an opposition senator, Piedad Cordoba, who has been involved in previous missions to secure hostage releases.
The freed hostages were Sgt Pablo Emilio Moncayo, who was kidnapped 12 years earlier when he was 19, and Pte Josue Daniel Calvo.
Sgt Moncayo's father, Gustavo, walked across Colombia in chains in 2007 to highlight the suffering of the hostages.
Prior to this, several hostages, including four members of the armed forces and two politicians were freed in February 2009.
In January 2008, former congresswoman Consuelo Gonzalez and Clara Rojas, an aide to former presidential candidate Ingrid Betancourt, were released after several years in guerrilla hands.
The Farc guerrillas have long said they wanted to swap police and soldiers they hold for the jailed rebels.
The rebels, who have come under sustained pressure in recent years and suffered widespread desertion from their ranks, have indicated that they seek talks that might lead to peace talks.
President Alvaro Uribe, who left office on 7 August 2010 , had repeatedly ruled out a prisoner exchange.
His successor, former defence minister Juan Manuel Santos, has indicated peace talks can happen, but only if the guerrillas release all hostages and show their readiness to abandon their armed struggle.
Does the plight of the hostages still resonate in Colombia after so many years?
Definitely. Colombian radio stations run programmes in which family members and friends can send messages they hope their kidnapped relatives will hear.
And any developments, such as reported moves towards any releases, are covered extensively by Colombian media.
Related Internet Links
The BBC is not responsible for the content of external sites.