Profile: Jerome Kerviel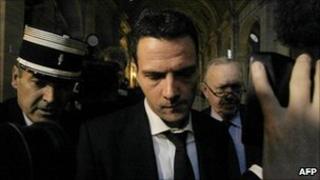 "Jerome Kerviel is not Robin Hood. Jerome Kerviel is the trader who lost the largest amount of money in the world."
Those words, from the former head of investment at Societe Generale, were perhaps the most memorable from the trial of Jerome Kerviel.
He is the rogue trader at the French bank who must now serve three years in jail with a further two years suspended sentence after being convicted by a Paris court.
But the comment hints at two different views held of him.
One portrayal is, essentially, that put across by the prosecution at his trial earlier this year.
It depicts Mr Kerviel, 33, as the man who, an ex-boss claims, "never said sorry" for his actions; actions that saw him run up $50bn (currently £33.8bn) of trades that Societe Generale had to rush to unwind; actions that lost the bank 4.9bn euros.
It paints him as a reckless banker, someone who got out of their depth, who took risks that were described in court as "inhuman" and "stratospheric".
Slogan celebrity
The other image of Mr Kerviel is as something of an anti-establishment hero - not robbing from the rich to give to the poor, but rather making a mockery of the financial system; the country boy who managed, single-handedly, to almost bring down a bank.
He always maintained the bank knew about the risky deals he was doing, but turned a blind eye to them.
And this view - and perhaps his brooding Gallic looks - made him a cult figure and prompted women to wear T-shirts bearing the slogan "Jerome Kerviel's girlfriend".
Another in the range - spun off from a Facebook group - reads: "Jerome Kerviel, 4,900,000,000 euros. Respect".
'Banking orgy'
Quickly dubbed a rogue trader in the press, Mr Kerviel became an almost overnight celebrity.
The revelation about the unauthorised deals shook the financial markets, (though it was soon dwarfed by the global sub-prime mortgage crisis and the collapse of Lehman Brothers).
And nowhere was the media sensation more of a surprise than the small town in Brittany, northern France, where he grew up.
After leaving school in Pont-l'Abbe, Mr Kerviel studied finance in Nantes and Lyon - then joined SocGen in 2000 - moving up from the back office to become a trader.
Perhaps with an eye on the media coverage he knew it would generate ahead of his trial, he wrote a book in which, among other things, he compared financial trading to prostitution.
"At the heart of this great banking orgy, traders are only given the same consideration as any street prostitute: a quick thank-you for a good day's takings," he wrote.
Backup plan
The court case was keenly-watched in France, running for several weeks.
Kerviel had said that, if cleared, he had planned to go back to a job he had before the trial - working in the Paris suburbs, working as an IT technician on 2,300 euros a month.
He remains a free man until a appeal he plans to launch is heard.
But with a conviction for forgery, breach of trust and unauthorised computer use, a return to normality remains some way off.