Sniffer dog helps find fake DVDs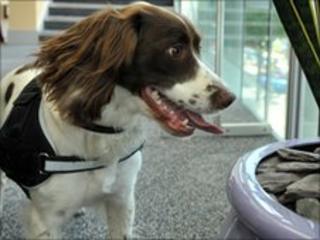 A dog trained to sniff out DVDs has become the latest weapon for trading standards officers looking for bootleg copies of films.
Dixie, a one-year-old springer spaniel, can detect even the smallest fragments of plastics used in DVDs.
The dog will help trading standards teams in Clackmannanshire and Stirling.
The Trading Standards Institute (TSI) said Dixie would have a "huge impact" on how quickly officers could find pirated discs.
A TSI spokeswoman said: "Although she can't distinguish between legal and counterfeit discs, her skills enable large areas to be scanned within minutes rather than hours or days."
Similar dogs are already used by the Federation against Copyright Theft.
Trading standards officer Brian Wilson said: "Dixie passed her assessment in May so she is now licensed to carry out work at car boot sales and the like.
"We have already been on a few jobs with her, but I expect there will be many more now that she has been officially unveiled."
Dixie will be introduced to trading standards officers at the TSI annual conference in Edinburgh, where she will demonstrate her skills.
Mr Wilson said she had been trained in the usual way for detection work - using a tennis ball as a reward and having "lots of fun".
The dog has practised searching houses, vehicles, trailers and outdoor areas.
Mr Wilson added: "Dixie will find discs in any location and in any number. She will even find fragments of a broken up disc hidden for example inside a vehicle.
"Once the discs have been found it's up to the owner of them to explain why they have them if they turn out to be fake.
"This is a really important area of work - many people don't realise that the vast majority of the trade in illegally-copied DVDs has links to organised crime, affecting the safety and well-being of consumers and businesses on a wide scale."