Harbour bed hole under Manx pier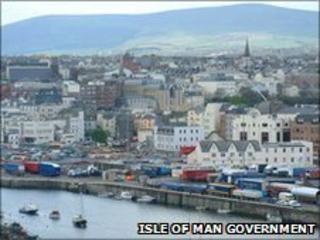 A 7.2m (23.6ft) hole has been uncovered in the harbour bed under the pier used by passenger ships on the Isle of Man.
Work to repair the damage at Victoria Pier is already under way while an investigation is carried out.
However, harbour bosses believe the bed was worn away by jet wash or propellers from the Steam Packet Company craft, Manannan and Snaefell.
Efforts are being made to maintain the company's schedule during the work, the Department of Infrastructure said.
An underwater team found the undermining at the south side of the pier during a recent survey.
The government said it had created a 7.2m (23.6ft) x 3.5m (11.4ft) hole in the sea bed, and significant scouring of the harbour bed close by.
"Although it is likely that propeller or jet wash from the Steam Packet's vessels has caused the damage, investigations are continuing in close cooperation with the company," said a spokesperson.
"A temporary repair is scheduled to be completed within the next week which will make the pier and berth safe until the Steam Packet's fastcraft schedule is completed in late November.
"Once the fastcraft has stopped, work will resume to effect a permanent repair and improve the berth and pier against future scouring and propeller wash damage.
"The repairs will involve placing rock in the scoured areas of harbour bed and pumping a special concrete mix into the void under the pier."