Bank lending to small firms still a mixed picture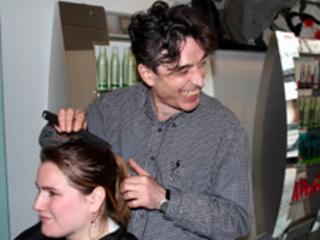 Hairdresser Alex Ciangola says he is giving his bank the chop after it suddenly increased the charges on his business overdraft.
Speaking amidst the hustle and bustle of his busy salon in London's Soho, the owner of Eclipse Hairdressing says it is just one of a number of complaints he has had with his lender.
"I've been in business for eight years, and I had no problem at all with the bank until a year and a half ago," says Mr Ciangola, who employs 27 people across his four branches.
"As soon as the credit crunch hit it all changed. Try getting a loan from them now and they either don't want to know or the price has shot up."
Mr Ciangola says that as a result, he would now only be growing his business organically - he will not be seeking any further overdrafts or loans.
"And I'd advise any other small firm to do the same," he adds. "The banks just aren't worth it."
Lending slowdown
But for every small and medium-sized enterprise (SME) struggling to get credit, there are of course others who are successful.
The latest figures from the British Bankers' Association (BBA) show that new lending to small firms across the UK banking industry totalled £529m in April, down from £678m in March, but more than February's £525m.
BBA statistics director David Dooks says the figures show that lending to small firms "remains broadly constant".
However, if you look at the historic data, the slowdown in lending as a result of the crisis in the financial markets and subsequent recession is stark.
The monthly average total of new lending to small firms in 2008 was £991m, BBA figures show, falling to £633m in 2009, and £566m in 2010 so far.
The core question is how much of this slowdown has been caused by a decline in the number of small firms seeking loans, and how much is viable, growing businesses either being unfairly turned down, or finding that the terms of the credit is too expensive?
The BBA says the former is the vast majority.
"Within the current environment, where there is reduced appetite for new credit and businesses are seeking to finance themselves, or repay debt out of operating income, the average value of new term loans is notably lower than historic levels," it says.
'Stifle the recovery'
Business Secretary Vince Cable is not so sure.
In a recent interview, he accused banks of charging too much for their business loans, which threatened to "stifle" the economic recovery.
"The banks claim that there is no demand. That is not right," he added.
"If the bar is set too high, of course no one is willing to jump."
To help further increase bank lending, Mr Cable said he would be ensuring that small business lending targets agreed by the main banks that needed government bailouts - Royal Bank of Scotland (RBS) and Lloyds Banking Group - are met.
The Federation of Small Businesses also agrees that small firms are still struggling to access capital, saying that there is both a lack of available capital, and that what is offered is too expensive.
It is also calling on the government to implement a system that gives firms who have had their application rejected to get a right of appeal.
'Committed'
Both RBS and Lloyds counter that they are already meeting their targets.
RBS says it and subsidiary NatWest extended new credit facilities totalling £10.4bn to UK firms in the first quarter of 2010, and continue to approve more than 85% of all business applications.
Peter Ibbetson, its small business chairman, says the bank remained "absolutely committed to making credit available to viable businesses".
The bank has also pledged not to raise margins on overdrafts, and to cap arrangements fees at 1.5% per annum on loans and overdrafts.
Meanwhile, Lloyds says its net lending to businesses totalled £11bn in the year to March 2010, meeting the targets agreed with the Treasury.
"The confidence and success of small and medium-sized businesses will shape the UK's economic recovery, and we are committed to playing our part in making sure they continue to achieve their ambitions," says Lloyds' head of external affairs, commercial, Stephen Pegge.
Mr Pegge also highlighted the bank's SME charter, which has pledged to help 300,000 new small firms start up by 2012.
'No surprises'
One small firm that has successfully secured a new funding facility from Lloyds this year is women's fashion retailer Isabella Oliver, which got a £300,000 overdraft and a £200,000 loan.
The London-based company employs 44 people and has recently won a Queens Award for Enterprise in the international trade category for its significant growth in exports, which now make up more than half its sales.
"You have to have a proper and close relationship with your bank," says Isabella Oliver's chief executive, Geoff Van Sonsbeeck.
"Don't give your bank any surprises, instead always keep it up to date, and explain and explain.
"It your bank understand you, and you show you have a viable business, they will support you as much as they can."
Brian Morgan, director of the University of Wales Institute Cardiff's Creative Leadership and Enterprise Centre, agrees that many small firms need to improve their ability to present their case to banks.
"The problem for small firms over the last few years has not been so much difficulty in getting new credit facilities, but banks withdrawing the existing ones on which many SMEs had become dependent," he says.
"Banks have been unilaterally removing them, or else enforcing overly strenuous new guarantees or charges for things they would have previously handed out.
"To improve their chances of getting credit, small firms have to improve their presentation skills - you have to convince your bank you are a good bet. This is a difficult skill."