Floods in Oklahoma City strand residents on rooftops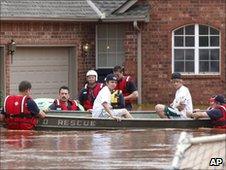 Heavy rains have inundated Oklahoma City, stranding motorists on flooded roads and leaving swaths of the city under water.
Rescue workers scoured the city by boat to help people left clinging to trees and waiting on roofs.
The flooding has caused massive damage but officials had no reports of deaths.
Meanwhile, police in the state of Arkansas have found the body of a 20th person killed when heavy rain flooded camping areas early on Friday.
In Oklahoma City, officials warned motorists to stay away as roads were transformed into virtual rivers and low-lying areas turned to lakes.
"I have never been this scared," Oklahoma City spokeswoman Kristy Yager told the Oklahoman newspaper.
"This is way worse than driving in the ice. The water is so deep. The visibility is so low."
Oklahoma City resident Ryan Hearne said he had seen at least one man abandon his vehicle on a submerged bridge and grasp a nearby tree before being rescued.
"The boat came through the floodwaters, and they grabbed him out of the tree and got him out of there," Mr Hearne told the Associated Press news agency.
"You couldn't see the bridge at all. You couldn't see his vehicle. It was completely overrun with water."
In Arkansas, search crews found the body of a young girl who was the 20th victim of Friday's flooding at a remote campsite in the Ouachita National Forest.
Checks are being carried out to determine whether the girl is the last person reported missing since the flash floods, which sent a wall of water crashing through the area in the middle of the night.
A state police spokesman said the authorities would decide later whether to continue the search into Tuesday.