Papers await Bloody Sunday report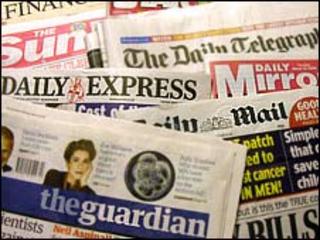 "Will the wounds ever be healed?" asks the Independent hours before Lord Saville presents his final report on the Bloody Sunday deaths 38 years ago.
No one expects immediate closure, says the paper, but the fervent hope is that Lord Saville can make a contribution to justice and the peace process.
The families of those who died tell the Times they are hoping for catharsis.
Their lawyers are said to be planning for those who opened fire to be prosecuted for murder.
Cuts and spills
Thirty four billion is the figure that dominates the front pages of both the Financial Times and the Guardian.
For the FT, it is the amount in pounds George Osborne is expected to look for in additional cuts and tax increases in next week's emergency budget.
For the Guardian it is the total bill in dollars facing BP from the oil-spill in the Gulf of Mexico.
The sum, it says, dwarfs many previous estimates of the cost of the clean-up operation as well as compensation.
'Demagogue'
President Obama's comparison of the impact of the ruptured oil well with the fallout after the 9/11 attacks angers the Daily Express.
Accusing him of showing crude and crass aggression towards BP, the Express says "this is the behaviour of a demagogue".
"Aggressive" is also used to describe George Osborne by the Daily Mail's political sketchwriter, Quentin Letts - but in a more favourable light.
The Times believes next week's Budget will be the making of him as Chancellor.
'Kick and rush'
The man known as 'The Kaiser' - Franz Beckenbauer - is on most back pages for his withering assessment of England's footballing style as "kick and rush".
The Daily Mail describes the remarks as "astonishing" and "unprovoked".
The Sun, however, believes the England manager, Fabio Capello, has found the answer to all his problems.
Beside the headline: "Capello unveils new goalie strategy" - it has a picture of all three of England's goalkeepers, standing together between the posts.