Funeral for attacked Teesside soldier David Grout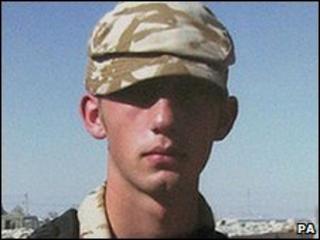 The funeral has been held for a soldier who died after being attacked soon after returning from a tour of duty in Afghanistan.
Signalman David Grout, 22, was socialising with family in Eston, Teesside, on 11 May when he became involved in a row with two men.
He suffered a head injury and was taken to hospital but later died.
The full military funeral service was held at Christ Church in Eston.
A 19-year-old man has been arrested and bailed on suspicion of assault with intent to cause grievous bodily harm.
Father-of-one
Mr Grout served with the Royal Corps of Signals, based at Catterick Garrison in North Yorkshire, and had recently returned from Helmand province.
The father-of-one had been socialising with his mother Maureen and her new husband, Ian Harrison, in the hours before the attack.
It is believed he had left the Eston Institute to go outside for a cigarette when he was attacked.
Two black horses pulled the hearse to church on Tuesday.
While comrades from his squadron remained out in Afghanistan, other Signalmen lined up outside and made up the firing party.
In a tribute to Mr Grout, his widow, Kerry, 21, said: "I not only lost my husband, but my best friend, my hero and the best daddy Harley could ever wish for.
"Words cannot express how much I will miss him. When the lights go out every day I miss his warmth, his love, his hugs and kisses.
"David's legacy lives on not only in the lives he has changed across the world but in the beautiful, mischievous and cheeky boy I am so proud to call our son.
"He will always be with me, giving me strength, hope and the courage to succeed."
'Life and soul'
His commanding officer Maj Sally Richardson said before the service: "He lit up when he talked about his family. He was so proud to be a husband and a father.
"He was very enthusiastic, full of life, very fit and the life and soul of the party.
"He was an excellent soldier.
"He was a team player and will be sorely missed."
Police have renewed an appeal for witnesses to the incident.
A Cleveland Police spokesman said: "Our thoughts are with his family, Kerry his wife, and Harley his son at this sad time."