SPLM gets oil ministry in new Sudan cabinet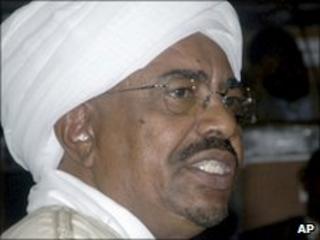 Sudan's president has announced his coalition cabinet, expected to be the last before a referendum due in January on secession for the oil-rich south.
Omar al-Bashir was overwhelmingly re-elected in April's polls, although they were marred by an opposition boycott and fraud allegations.
The newly created oil ministry has gone to Lual Acuek Deng, from the southern Sudan People's Liberation Movement.
The referendum was part of a north-south deal to end a long civil war.
The south, where most of Sudan's lucrative oil lies, is expected to vote to split from the north but the exact boundary still has to be defined.
The elections, the first multi-party polls in 24 years, have been recognised internationally, despite their flaws.
Fears
In the new government, Mr Bashir has split the energy portfolio into three - oil, mining and electricity.
None of the major northern opposition parties, many of which boycotted the polls, took up Mr Bashir's offer of joining a unity government.
A breakaway faction of the Democratic Unionist Party which did agree to join has been given the ministry of international co-operation.
The SPLM controls nine out of 35 ministries, including oil, cabinet affairs and investment, Reuters news agency reports.
SPLM leader Salva Kiir also won a landslide to remain president of the south in April.
On Monday, the UN Security Council called for preparations for the crucial referendum vote to be speeded up.
It said while both north and south Sudan have been preoccupied with forming governments, they should give urgent attention to referendum preparations.
The BBC's Barbara Plett in New York say there is fear of violent conflict if contentious issues are not resolved in advance, issues such as demarcating borders, and agreeing a formula for sharing oil and mineral wealth.
"Referenda commissions must be appointed immediately to begin the difficult work of operational and budget planning, voter registration, education, logistics, and administration," US Ambassador Susan Rice said, AFP news agency reports.
Former South African President Thabo Mbeki, who heads an African Union panel that deals with Sudan, told the Security Council the panel would sponsor a meeting on 21 June to begin the process of negotiations on these matters.
Ceasefire
The Council was also told about an upsurge in violence in the western region of Darfur.
Fighting between Sudanese forces and a main rebel group killed nearly 500 people in May, and displaced at least 10,000 in recent months, possibly many more.
A UN official called on both the government and the rebels to allow humanitarian access to the conflict zones.
"It is essential to reiterate to all the belligerent parties that there can be no military solution to the Darfur crisis and a return to negotiations is the only viable option," the joint UN-African Union representative in Darfur Ibrahim Gambari said, according to the AP news agency.
The hope, he said, is that a shaky peace process will still lead to a political settlement in Darfur by the end of the year, before the southern vote on self-determination.
President Bashir is wanted by the International Criminal Court (ICC) for alleged war crimes in Darfur - which he strongly denies.