Plight of Kyrgyzstan's ethnic Uzbek refugees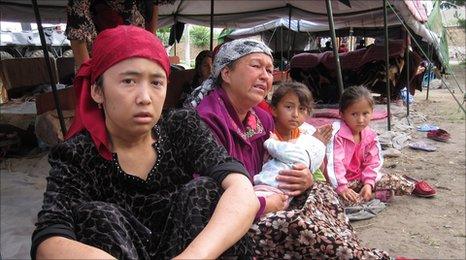 The BBC's Rayhan Demytrie reports from a refugee camp inside Uzbekistan, where ethnic Uzbeks are giving their accounts of how they fled violence in neighbouring Kyrgyzstan.
Uzbekistan says it is shutting its border with Kyrgyzstan and will not be able to accept more refugees fleeing the ethnic conflict in southern Kyrgyzstan.
The Red Cross says more than 80,000 refugees have already crossed and up to 15,000 are still massing in the border areas.
At one border area in Kyrgyzstan, thousands of people have been making their way to neighbouring Uzbekistan through a hole in the barbed wire. Plastic bottles, broken shoes and other belongings scattered along the route indicate the way they hurried to make their way to safety.
A few minutes' walk from the border area, past a police cordon and rows of ambulances, is a refugee camp. Under large green tents, there are dozens of beds covered with mattresses. Resting in the shade of the tents are women, children and the elderly.
In one tent was a breastfeeding mother, who told us how she had to run for safety with her five-day-old baby.
"In the maternity ward in Osh, we were told that the Kyrgyz were coming. Everybody had to run away, even those who were in labour."
Many people in the camp have a story to tell about what's been happening in the past few days in Osh. Eighteen-year-old Ikramjon's face is covered with green-coloured antiseptic. He says he was injured when a gas appliance exploded in a house which had been set on fire.
"The day before it all began, the Kyrgyz escorted their women and children away. Towards the evening, cars with no number plates were driving around and shooting at Uzbeks. The following day the military came, and they also started shooting at Uzbeks. We've been defending our neighbourhood but they broke through and started shooting at people."
In the next tent, an elderly woman, Ergasheva Muminahon, is in tears.
"My 85-year-old husband was left behind. I have five children and I cannot find any of them here, I am the only soul from our family sitting here. What have we done to those Kyrgyz? Why have they tortured us so much?"
A white-bearded old man sitting next to her asks: "How can a government be so irresponsible? Can the international community help?"
Most of the refugees have questions to which no-one can give an answer. The majority of women are worried about their husbands, brothers and sons who stayed behind in Osh to defend their homes. They don't even know whether they are alive.
'Save us from this shooting'
A lot of people are deeply traumatised by what they have been through. One distressed woman was telling her account of events through tears.
"My next-door neighbour in Stalin neighbourhood was shot dead. They came in APCs (armoured personnel carriers), those who tried to stop them were shot dead on the spot. We barely made our way out of the neighbourhood, carrying our babies, trying to cross through deep ditches.
"Uzbeks have no weapons, but the Kyrgyz are all armed. All our homes are burnt down - let them be burnt but save our men. Save us from this shooting."
Most of the people in the refugee camp are desperate for help. They do not know when they will be able to go back, or whether living alongside ethnic Kyrgyz will be possible in the future.
On the way back, as we approached the Kyrgyz side of the border, we saw hundreds of other ethnic Uzbeks lining up, desperate to cross into Uzbekistan for safety. One elderly woman was sitting on the ground on a dusty road. An injured man lay on a stretcher nearby. Dozens climbed on to concrete blocks chanting "yordam, yordam" - "help" in Uzbek.
Everybody is agitated, and when people see journalists they are so desperate to tell their account that they all talk simultaneously. There is a cacophony of desperate voices: "They've dishonoured (raped) our girls"; "You have to help us, they've killed and burnt our children"; "I saw with my own eyes a five-year-old girl lying dead."
These people are in urgent need of help. They do not know who can protect them or where they can find shelter. Most of the houses on the Kyrgyz side of the border have been overwhelmed with women and children.
The summer heat is making it even more difficult - there are no washing facilities and maintaining hygiene is a big problem. The majority of people say so far they have not received any humanitarian aid.
Related Internet Links
The BBC is not responsible for the content of external sites.