Profile: Juan Manuel Santos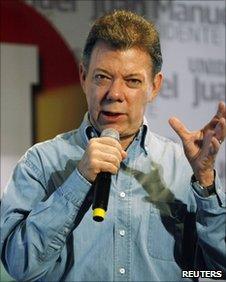 Juan Manuel Santos was no stranger to high office and the reins of power, even before being elected president of Colombia in 2010.
He comes from an influential Colombian family. His great-uncle, Eduardo Santos, was president from 1938 to 1942 and owned the country's largest newspaper, El Tiempo. His cousin, Francisco Santos, served as vice-president under Alvaro Uribe.
Juan Manuel Santos himself held several ministerial posts in previous administrations.
But it was his term as defence minister under President Uribe from 2006 until 2009 where he had his greatest impact: it paved his way to the presidency.
He was instrumental in carrying out the president's "democratic security policy", aimed at increasing the presence of the security forces throughout the country and driving back Colombia's main left-wing rebel group, the Revolutionary Armed Forces of Colombia (Farc).
Many Colombians credited him with an increase in security, but others argued that the victories he achieved came at too high a price.
He oversaw Operation Checkmate, the successful rescue by the military of 15 high-profile hostages, including the former presidential candidate Ingrid Betancourt.
He was also in charge when the Colombian military mounted a controversial air raid into Ecuador during which senior Farc leader Raul Reyes and 25 other people were killed.
The Colombian military described the killing of Mr Reyes as a major blow to the Farc but Ecuador was incensed over the violation of its airspace.
During Mr Santos' tenure as defence minister, the military was also rocked by a scandal called "false positives". A number of senior officers were accused of the extrajudicial killing of civilians, leading to the resignation of the head of the army.
During his election campaign, Mr Santos insisted that he would continue to implement the policies of President Uribe, with a strong emphasis on combating the drugs trade and the Farc.
But since taking office, President Santos has steered a markedly different course to his predecessor, who is now one of his fiercest critics.
A law has been passed to compensate the victims of the long-running civil conflict and return land to millions of displaced people.
And Congress has approved the legal framework for eventual peace talks, setting out the kind of sentences rebels could expect if they agreed to lay down their arms.
In August 2012, the Colombian government and the Farc rebels announced that they were set to hold peace talks later in the year.
President Santos insisted that military operations against the guerrillas would not cease even while negotiations were under way.
In October, Mr Santos underwent surgery for prostate cancer.
Related Internet Links
The BBC is not responsible for the content of external sites.