Bloody Sunday: Cameron key points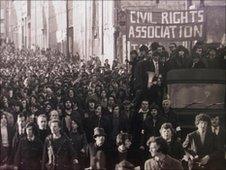 Prime Minister David Cameron has said there is no doubt that what happened on Bloody Sunday was "unjustified and unjustifiable".
Speaking in the House of Commons on Tuesday Mr Cameron said: "The Government is ultimately responsible for the conduct of the armed forces.
"And for that, on behalf of the Government, indeed on behalf of our country, I am deeply sorry."
What happened was "wrong".
Troops went in as a result of a order that should not have been given.
On balance the first shot in the vicinity of the march was fired by the British Army.
None of those killed was armed.
There was some firing by republican paramilitaries, but none of this was justification for the reaction of the soldiers.
No warning was given by British soldiers.
It was a loss of self control by soldiers.
Some of those shot and injured were clearly fleeing or aiding other wounded.
One man was shot when he was lying fatally wounded on ground.
None of the casualties was doing anything that could justify their killing.
You do not defend the British Army by defending the indefensible.
No point in trying to soften or equivocate what is in this report.
He said the tribunal found that some soldiers had "knowingly put forward false accounts".
Bloody Sunday was not the defining story of the army in Northern Ireland. He said the British Army, over the course of the Troubles, "had displayed enormous courage and professionalism in upholding democracy and the rule of law".
More than 1,000 members of the security forces lost their lives during the Troubles.
The prime minister also acknowledged the grief of the families: "Nothing can bring back those that were killed but I hope, as one relative has put it, the truth coming out can set people free."
In his report Lord Saville said: "What happened on Bloody Sunday strengthened the Provisional IRA, increased nationalist resentment and hostility towards the Army and exacerbated the violent conflict of the years that followed.
"Bloody Sunday was a tragedy for the bereaved and the wounded, and a catastrophe for the people of Northern Ireland."