Man guilty of £40m raid on Mayfair jewellers Graff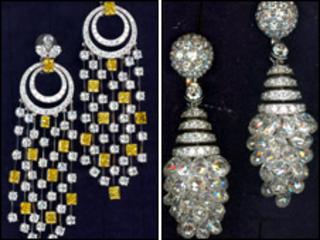 A man has been convicted of taking part in the UK's biggest jewellery robbery.
Aman Kassaye, 25, used a gun to force a shop worker at Graff Diamonds in Mayfair, central London, to hand over gems valued at £40m last August.
Kassaye has been found guilty of conspiracy to rob, kidnapping and possession of a firearm.
The jury at Woolwich Crown Court has been sent home and is considering verdicts on six other defendants, who all deny charges over the robbery.
Jurors are due back in court at 1000 BST on Monday.
'High stakes'
The gems that were taken have never been recovered.
The court heard raiders used professional make-up to disguise themselves in the "high stakes" robbery during which they shot at anyone who got in their way.
Shop manager Martin Leggatt was left spread-eagled on the floor with a gun pointed at his head, and shop assistant Petra Ehnar was told to hand over items on display at the New Bond Street store, the jury was told.
She was forced to fill a bag with 43 pieces of jewellery including earrings, necklaces and watches, the court heard.
One diamond necklace alone has been valued at £3.5m.
Ms Ehnar, who was taken hostage to enable the robbers to make their way to their getaway car, told the court she was "petrified" during the raid.
She said she grew more concerned when she was taken out into the street at gunpoint.
"This worried me because I could still feel the gun being pushed into my back... I felt the men would shoot, I really did.
"The next thing I heard was the gun being fired and the noise was so loud.
"I realised I wasn't shot because I was still in one piece."
Footage was shown to the jury of Kassaye firing a shot in the street outside the store as passers-by began to realise what was happening, sending them running for cover.
Trial judge Mr Jeffrey Pegden QC told the jury that they could return majority verdicts on all other counts.
The remaining six defendants are:
Craig Calderwood, 27, of no fixed address
Solomun Beyene, 25, of Marylebone, north-west London
Clinton Jamal Mogg, 42, of Bournemouth, Dorset
Courtney Lawrence, 31, of Ladbroke Grove, west London
David Joseph, 23, of Loughborough Junction, south-east London
Thomas Thomas, 45, of Kingston upon Thames, south-west London
Another two defendants, Benjamine McFarlane, 22, of Paveley Street, Marylebone, north-west London; and Gregory Jones, 30, of Elgin Avenue, Maida Vale, west London, were cleared in May after the judge ruled they had no case to answer.