Relatives' reactions to Bloody Sunday report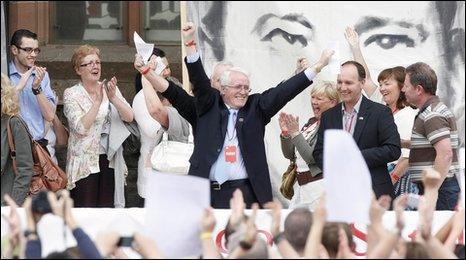 Families of those shot dead on Bloody Sunday in 1972 have reacted to the Saville report, which has finally cleared the names of their relatives.
Tony Doherty, whose father Paddy died when paratroopers opened fire, said the victims had been vindicated and the Parachute Regiment disgraced.
"Their medals of honour have to be removed.
"The great lie has been laid bare. The truth has been brought home at last.
"It can now be proclaimed to the world that the dead and the wounded of Bloody Sunday, civil rights marchers, one and all, were innocent, one and all, gunned down on their own streets by soldiers who had been given to believe that they could kill with perfect impunity.
"It was the paratroopers' mission in Derry to massacre people they thought as enemies of the state. They will have known that murder was what was expected of them when they erupted onto our streets.
"Bloody Sunday wounded Derry very, very badly. We may hope that from today we can begin to bind those wounds."
James Wray's brother, Liam, said his family and the people of Derry had been vindicated by the report, which found that "Jim" was "specifically targeted while posing no threat, and shot in the back".
"As he lay there, defenceless and dying, he was deliberately shot again. The Saville Report stated clearly that there was no justification for either of these two shots.
"Now the world knows the truth. Jim was innocent," he said.
Mickey McKinney, whose 27-year-old brother Willie was shot dead, said it was a "historic day for Derry".
He told crowds outside Guildhall: "I would like to thank all of your patience, as we have all had patience over this past 38 years. But today, the waiting has come to an end.
"This has been a very challenging and dramatic time for the families and we could not have done this without your encouragement and support. We know that we stand here today among friends."
John Kelly, whose 17-year-old brother Michael was killed, said the key point for the families was "the innocence of our loved ones".
"The report is very long, very detailed and covered a wide range of topics on every possible aspect of Bloody Sunday.
"Everything else fades into insignificance compared to the fact that those gunned down on Bloody Sunday were ordinary, decent Derry people. That was the verdict we wanted. That is what matters.
Kate Nash, whose 19-year-old brother William died, told the crowd in Derry: "My brother William. We know he was innocent, we've always known. Now the world knows."
She was particularly critical of General Sir Mike Jackson, a captain in the Paras on Bloody Sunday, who went on to become Chief of the General Staff.
"Thirty-eight years ago, a story went around the world, concocted by General Mike Jackson.
"He said there was gunmen and bombers on our streets, and they were shot and killed. Today, that lie has been uncovered."
Kay Duddy, sister of John Duddy, asked the crowds, on behalf of the families of those injured and killed on Bloody Sunday, to observe a minute's silence for all those killed during the conflict over the last 40 years.
Speaking about the original Widgery report into Bloody Sunday, which was condemned by many as a whitewash, his brother Gerry said: "Widgery destroyed our loved ones' good name.
"Today we cleared them. I am delighted to say, 'Jackie was innocent'."
Geraldine Donaghey, niece of victim Gerald, said: "Today the world has been told - my uncle was innocent.
"He was murdered by soldier G as he was trying to get away to safety. Lord Saville has said there was no justification for his shooting.
"He was only 17. Innocent."
Charlie McGuigan said of his brother: "Berney McGuigan posed no threat whatsoever, and would be celebrating his 80th birthday tomorrow were it not for Soldier F.
"The truth is out. Berney is innocent."
John Johnston was wounded on Bloody Sunday. He died several months later - his family believe as a result of injuries sustained that day.
His nephew Jimmy said: "My father had worked with the other families for 38 years to get the truth.
"Sadly, he passed away six years ago, like so many of the other families, never to see or hear their loved ones be cleared, and the blame and the lies told against them proven to be lies.
"Johnny, like everybody else, was innocent."