Taxi driver 'lured to his death' in Derbyshire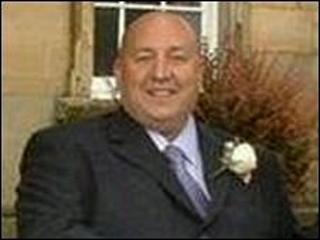 A taxi driver was lured to a deserted railway station and shot dead by a man with no other motive than to kill somebody, a court has heard.
Stuart Ludlam, a 44-year-old father-of-three, was found in his taxi at Cromford railway station, in Derbyshire, on 17 September.
Nottingham Crown Court heard he had driven to the station after getting a call on his mobile phone.
Colin Cheetham, 61, from Ripley, Derbyshire, denies murder.
Mr Ludlam had been made to kneel in the back of the boot and was shot in the head at close range, the court was told.
Prosecutor Peter Joyce QC said the defendant appeared to have no motive other than the desire to kill somebody and had planned it "meticulously".
He had checked the location to choose the best time and place to carry out the killing, the court heard.
Mr Joyce said: "It was his gun, he had planned it, it was his phone.
"He had no knowledge of Mr Ludlam but he had a fascination with taxis and a fascination with guns and Mr Ludlam was just the unlucky man with whom this fascination ended."
Holidaymaker Peter Noble dialled 999 after he found Mr Ludlam's body in the back of the car, which had its engine running, the jury was told.
Mr Joyce said Mr Ludlam had received a call from a mobile earlier that day, the purpose of which was not to hire a cab, but to lure a "complete stranger" to a secluded location to be killed.
Station photographs
The court heard records showed the mobile used to make the call had been bought from a supermarket in Derby and CCTV showed Mr Cheetham had purchased it.
A subsequent police search of the defendant's house revealed other mobile phones, a camera and photographs of various train stations including Cromford.
Mr Joyce told the court Mr Cheetham originally told police he went to take pictures of the station, as part of plans to make a calendar to send to friends and relatives for Christmas.
The prosecution said when questioned by police, Mr Cheetham said he had several phones but did not mention the one that was used to call the taxi company.
He also said he held a firearms licence and had done so since April 2004 and had been a member of the Swadlincote Rifle and Pistol Club for 13 years.
He said he kept his firearms in a steel box and nobody else had access to them.
The trial continues.