Government cuts force 200 Blackpool Council job losses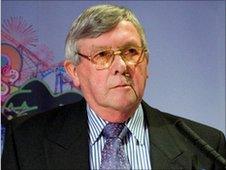 About 200 jobs are to be shed at Blackpool Council as a result of central government funding cuts.
The authority has been forced to make savings of £3m leading to the losses, which are expected to affect staff that help people back to work.
Tory council leader Peter Callow has described the decision as "one of the worst days of my life".
Council officers have begun consultation talks with employees and unions to try to minimise losses.
Mr Callow said: "The people who are going to be hit by this are good people.
"They are dedicated staff, who are doing all they can for Blackpool and the people we serve, and for me to be in this position is heartbreaking."
"The coalition is tackling the problem, and it will be difficult for all of us.
"I can't say exactly where the jobs will go at the moment, but they will probably be in services funded by the Area Based Grants pot that provide support to specific issues in Blackpool, such as helping find jobs and supporting families."
"I have written to ministers asking for them to make sure that all councils share the burden of cuts to local government, not just those like Blackpool that have additional funding streams."
Related Internet Links
The BBC is not responsible for the content of external sites.