Somerset council plans buildings sale to cut £400m debt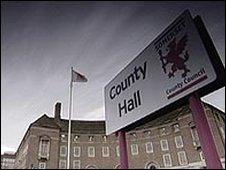 More than 20 county council offices could close across Somerset under plans to cut £400m of debt.
The leader of the Conservative-run council, Ken Maddock, said there were no "sacred cows" in making savings.
He said: "We are embarking on a comprehensive asset review and we will be discussing that at cabinet next Monday."
Liberal Democrat leader Jill Shortland said the council could share buildings with district councils instead.
The council currently owns 32 offices. Its 6,000-strong workforce is also being asked to consider voluntary redundancy.
Mr Maddock said: "The jobs will have to go first and then we will not need the office space."
The councillor in charge of finances, David Huxtable, said last week he would consider selling off County Hall in Taunton.
Mr Maddock said: "That's not top of my list, but I have to say in general terms no cows are sacred so we have to look at everything."
He said the buildings would not all be sold off at once.
"If you take a whole block of assets and flood the market with that particular type of asset, we would probably depress the price and that would not be sensible."
The councillor said everyone in the county would be affected by the cuts.
"It's very serious. What I have to do is make sure the pain is shared as fairly as I possibly can," he said.
The Tories took control of the council in 2009 with a policy of having increases of 0% in council tax each year.
Ms Shortland said: "The people who receive services are paying less in council tax, but there won't be anyone to look after old people or take care of children."
She said the Lib Dems wanted to save money by sharing high-level staff and buildings with the district councils.
"The council does have 'debts', but that debt is like a mortgage - it's there because we've bought assets, we've bought schools, libraries and council buildings because it's cheaper than renting," she said.
"If you get rid of jobs in 20 council offices can you imagine how many people would need to be sacked? How many council services will then not be delivered?"
A spokeswoman for the trade union Unison said it was not unusual for such a large council to be carrying a significant amount of debt.
"The issue is there's a big cuts agenda as well," she said.
"Obviously we are concerned about the level of debt and we want the council to take very measured decisions about what they cut.
"If you close an office every time you cut jobs, services are affected and more people are unemployed."
Related Internet Links
The BBC is not responsible for the content of external sites.